Heuer Chronograph (Valjoux Cal. 71)…
Another Heuer chronograph, this time a very handsome model from around 1940…
(Click pictures to enlarge)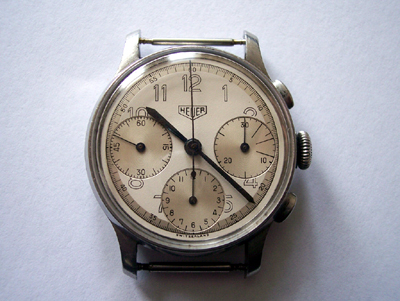 The calibre in this watch is the Valjoux Cal. 71, a manually wound three register chronograph, capable of timing events up to 12 hours.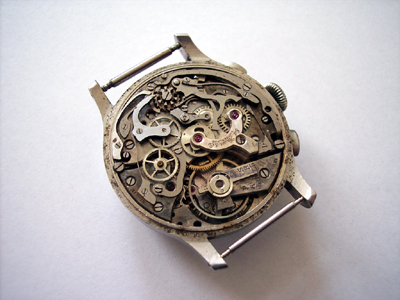 Although not obvious from the picture above, this calibre has a hairspring with a Breguet overcoil.  The difference between a regular (flat) hairspring and a Breguet overcoil is that the terminal curve is bent upwards above the plane of the rest of the spring…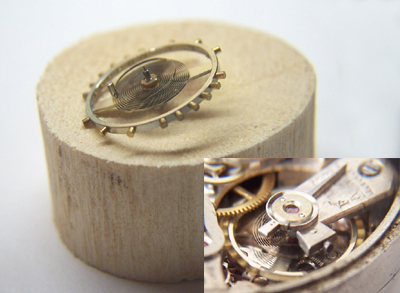 The advantage of using a Breguet overcoil is that the centre of gravity of the hairspring remains constant regardless of position, and the spring can develop concentrically from the centre, promoting a more consistent rate. One disadvantage of using this kind of spring is that extra height is needed to accommodate the raised terminal curve. As extra height is needed for the chronograph mechanism anyway, space is not a problem with this calibre.
Apart from being in pretty scruffy state, the watch also had a couple of other issues. Firstly, the mainspring had 'set'. This condition usually occurs with older carbon steel mainsprings that have been coiled up in the mainspring barrel for too long. A modern alloy mainspring in good condition should have an 'S' form as pictured below, the old steel mainspring is pictured inset.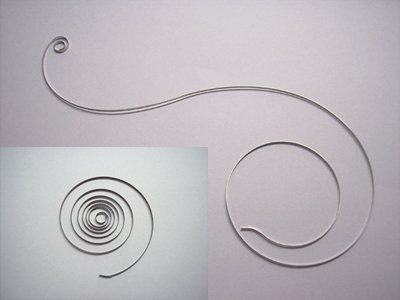 Secondly, the sliding gear spring was broken. This spring provides pressure on the sliding gear to ensure that the chronograph finger can advance the chronograph mechanism when engaged. Finding parts for older Valjoux calibres can be quite difficult these days, but thankfully it wasn't too hard to find a replacement spring this time (inset).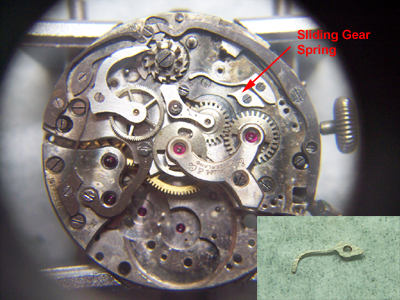 With the movement cleaned and back up and running, it was just a matter of straightening the centre second hand and the job was finished…. not a bad looking 70 year old, I'm sure you'll agree!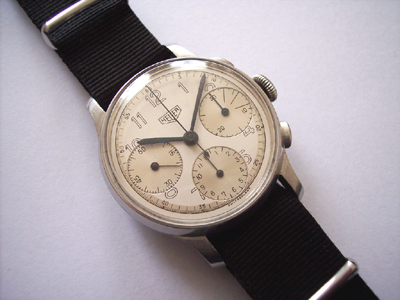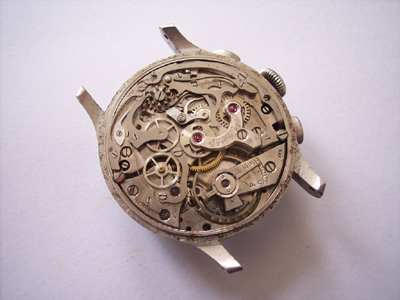 Rich.
** Many thanks to Jarl Fr. Erichsen of Classic Heuers for letting me feature his watch on the blog **