Welsbro Chronograph (Valjoux Cal. 7733)…
Another vintage Swiss chronograph, this time from Welsbro. Though not running and a bit scuffed and dirty it certainly had potential…
(Click pictures to enlarge)
I searched the internet trying to find information about the Welsbro company and although they had chronograph models in their line up back in the 1930's, there was very little to unearth about the company itself.
The movement in this watch is a Valjoux cal. 7733 which along with it's stablemate the cal. 7734 is one of the more commonly seen 'cam switched' chronograph calibres from the 1970's. The difference between the two calibres is that the cal. 7734 has a date display.
Generally speaking, there are two main chronograph designs, the 'column wheel' chronograph and the 'cam switched' chronograph; the difference being how the start/stop and reset functions are controlled.
In a column wheel chronograph such as the Universal cal. 281 below, the start/stop and reset functions are controlled by a wheel with raised pillars or columns (hence the term column wheel.) Simply described, the column wheel rotates one tooth with every push of the start/stop button and the pillars on the column wheel block the reset lever whenever the chronograph is running. Only when the mechanism is in the stopped position can the reset lever fall between the pillars to trigger a reset.
In a cam switched chronograph such as this Valjoux cal. 7730, the start/stop and reset operations are controlled by a central 'cam' and operating levers. Like the column wheel, the position of the cam determines which operations are possible, and again the reset function is only possible once the chronograph mechanism has been stopped.
The two pictures above are from Nakahiro's Antique Watch Movement Exhibition – well worth a visit!

For many years the column wheel was 'the' design for chronograph mechanisms, but with the advent of mass production came the desire to produce chronograph watches at a more affordable price. Mass producing column wheel movements was not possible as the column wheel itself could not be stamped out and needed to be finished by hand.
By removing the column wheel from the movement altogether, the cam switched design solved this problem. Now all parts of the mechanism could be stamped out and more affordable chronographs soon arrived on the market.
Though the cam switched design works just as well, from a technical standpoint it is seen as the 'poor cousin' to the column wheel design which often affects resale values and collectability.
Ok, back to the Welsbro. Thankfully, there were no hidden surprises with this one so a regular clean and oil got the movement up and running again. After cleaning the case, dial and hands the only thing left to do was polish the crystal…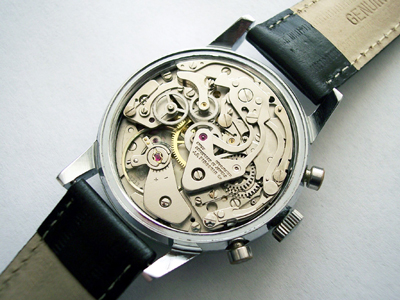 Rich.