Welsbro Chronograph (Valjoux Cal. 7736)…
Continuing to ride my 'blurry eBay picture' luck, I was tempted by this Welsbro chronograph.
(Click pictures to enlarge)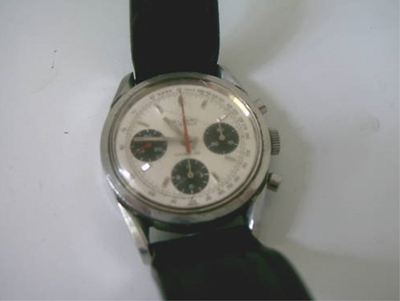 Though not a recognised brand name, I had restored another Welsbro chronograph in the past (see that post here), so I knew that there was a good chance that the movement inside would be of decent quality. When it arrived I wasn't disappointed, the crystal was damaged and the case had some scratches, but the dial and hands underneath were in perfect condition.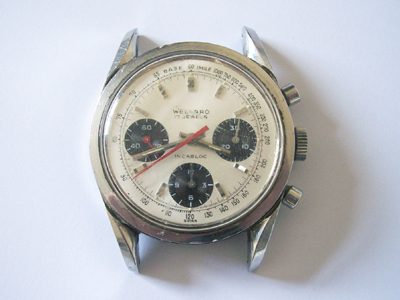 … and the good news continued as opening the caseback revealed a nice clean Valjoux cal. 7736.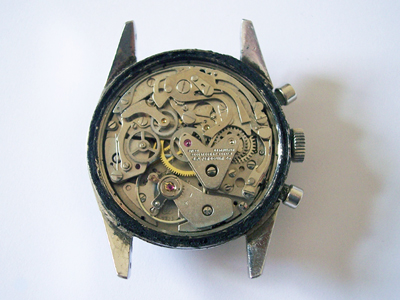 You'll notice in the picture above that the case threads are covered in a black tar-like 'goo' which, believe it or not, used to be the caseback gasket. You see this quite often on vintage watches, it is caused by the sealant used on the caseback gasket. After a couple of decades the rubber seems to break down due to a chemical reaction between the two. If you've ever experienced this stuff you'll know just how horrible it is, it seems to get everywhere and is impossible to remove without using solvent. Thankfully it hadn't found its way onto the movement this time.
The Valjoux cal. 7736 is the big brother of the Valjoux 7733/4 calibres which appear quite regularly on the blog. The difference between the calibres is that the 7736 has an additional hour register which allows the timing of events up to 12hrs.
Comparing the cal. 7736 to a cal. 7734 they are visually very similar, with just an additional lever underneath the cam. Like many other chronograph calibres, the parts for the 12hr register are on the dial side of the movement.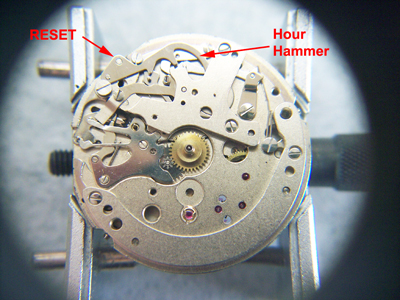 The picture above shows the fully assembled mechanism, and highlighted is the reset hammer which moves across and sets the subdial back to zero when the reset button is pressed. The following picture shows the mechanism with the cover plate removed.
You can see that the hour recording runner is powered directly from the mainspring barrel, and also pictured is the stop lever which is lifted from the runner when the chronograph is engaged, allowing it to turn along with the mainspring barrel. When disengaged, the stop lever arrests the runner and under the gear on the mainspring barrel arbor is a friction washer so the barrel can continue to rotate unimpeded.
The watch needed little more than a service and a clean up this time, so here's the finished product after fitting a new crystal and doing some refinishing work on the case.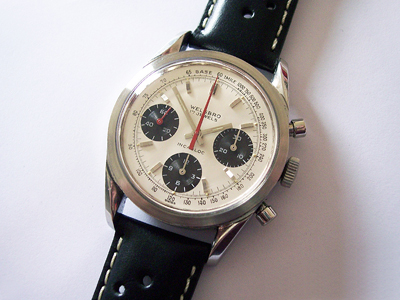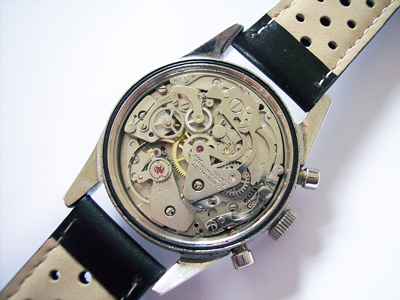 Rich.