Nivada Grenchen Chronomaster (Valjoux Cal. 23)….
Arriving in a sorry looking state, this Nivada Grenchen Chronomaster certainly needed a bit of TLC.
(Click pictures to enlarge)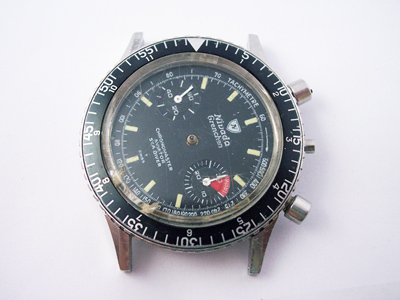 The Nivada Grenchen Chronomaster is one of my favourite watches and I've written a couple of posts about them in the past, this one containing information about the company and the various Chronomaster models. I won't miss another chance to include a link to this excellent post on the website Inventit Et Fecit too, which gives a comprehensive history on the model.
The movement inside the watch this time was one of the best found in Chronomasters, a Valjoux cal. 23. The movement was in good cosmetic shape and needed little more than a service.
Obviously the watch was missing some parts, namely the crown and stem and the main hands. These parts would have been hard to find, particularly the correct hands, but thankfully they were included in a zip-loc bag along with the watch. The hands were in poor shape though and needed to be completely repainted and re-lumed.
Here is the watch after the service and cosmetic work, and fitting a new crystal.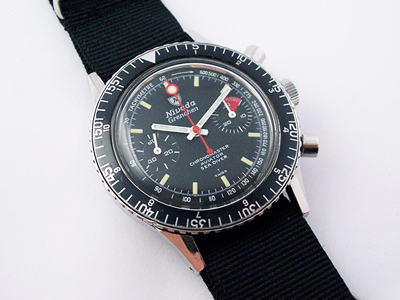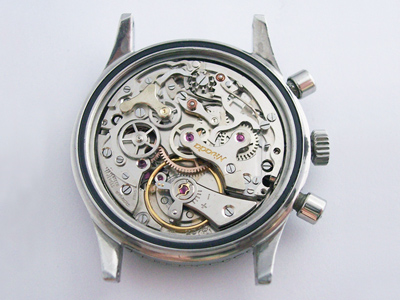 While this watch was in for repair, I also had two other Nivada chronographs to service, which gave me a rare chance to take this group shot.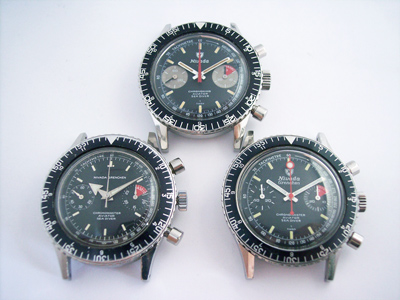 The watch at the top of the picture is a Nivada Chronoking, which is rarer than the Chronomaster. Very similar in style and still powered by a Valjoux cal. 23, but in a slightly larger case.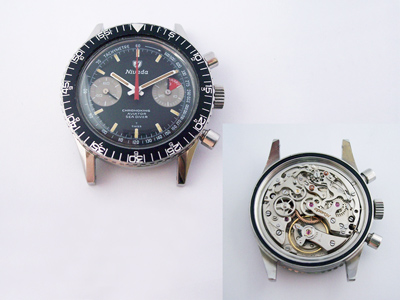 The watch on the bottom left is one of the first models from the early 1960's, distinguishable by its broad-arrow style hands. This watch is powered by a Valjoux cal. 92.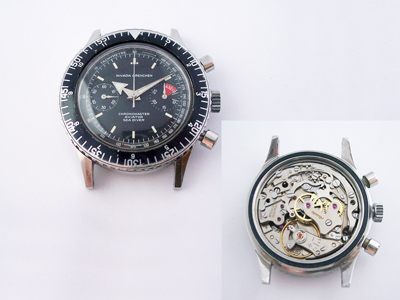 An interesting trio.
Rich.
** Many thanks to Steve Gillman for letting me feature his watch on the blog. **