Le Marc Chronomaster (Valjoux Cal. 7733)…
Though the brand is probably unfamiliar, regular readers may well recognise the model name and look of this watch.
(Click pictures to enlarge)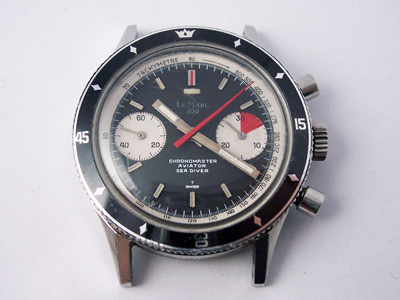 The watch is unmistakably a Nivada / Croton Chronomaster which has been re-branded (see here for an example). Looking at the dial print it is obvious that the model name and minute track were printed together, and a space was left for the brand – you can clearly see from the quality and clarity of the print that the "Le Marc 100" has been added later.
Aside from a few references to dress watches, and some dubious links to replica watches, there is very little to be found about Le Marc online. If anyone has any more information about Le Marc I'd be interested to hear from you.
It's pure speculation on my part, but did Nivada/Croton agree to produce a number of watches for other brands when they were struggling financially in the 1970's? It seems that Le Marc weren't the only company involved as here is another example, this time a 'Sussex', another brand with no notable history.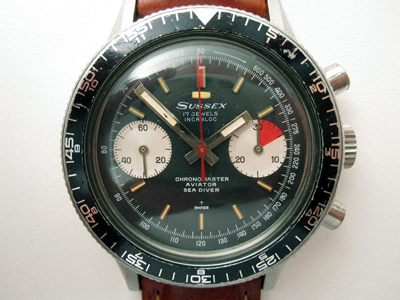 The watch in this post arrived in running condition, but the chronograph wasn't working at all. On opening the watch (and revealing a Croton branded Valjoux cal. 7733), the problem was immediately obvious, the screws for the operating and reset levers were both broken.
A similar thing had happened to a Breitling chronograph that I worked on recently (see here), and I can only assume that the buttons had been pressed so hard by the previous owner that the screw heads broke off…. yikes!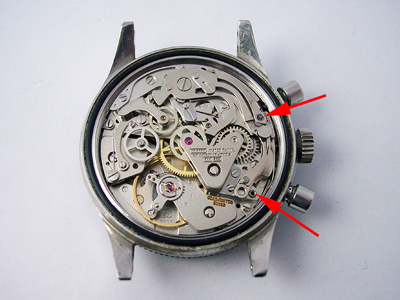 Thankfully, the fix is pretty straight forward once the watch has been disassembled. The broken shafts of the screws are removed using a broken screw extractor. I explained how that tool works in this post for anyone who is interested.
The watch also had a couple of other issues,  the lume in the hands had cracked and needed to be renewed, and the bezel was stuck. In most cases friction bezels are held in place by a thin wire underneath which clips over a lip on the top edge of the case. The wire has two main functions, it stops the bezel popping off, and it provides some tension to stop the bezel from turning too freely.
The only way to adjust the fit and function of the bezel is to bend the wire, which often involves a lot of trial and error. Too much adjustment and the bezel no longer snaps into place, or it fits, but is too tight (or loose). It can be time consuming to get it just right.
With all the problems ironed out and the movement serviced, the case was cleaned and the crystal polished to finish the job. The alignment of the '30' figure on the bezel is also curious on this watch, I've never seen that before.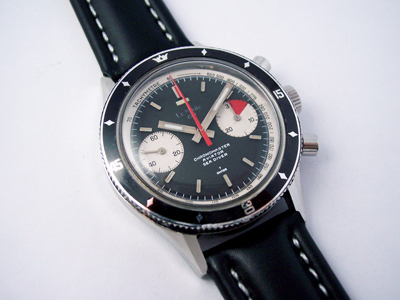 Rich.
** Many thanks to Richard Visser for letting me feature is his watch on the blog. **