I still keep a speculative eye on eBay and was tempted by this collection of vintage Zenith Sub-Sea oddments, all listed separately by the same seller.
(Click pictures to enlarge)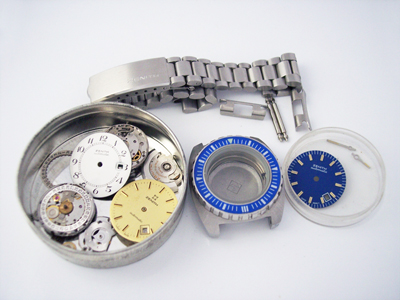 Mention the word Sub-Sea to any Zenith enthusiast and the watch that comes to mind is likely to be this gents model which is one of the most desirable vintage Zenith watches. Unmistakably a 1970's watch from the design alone, both the diver and chronograph models are now highly prized by collectors and can be difficult to find in good condition.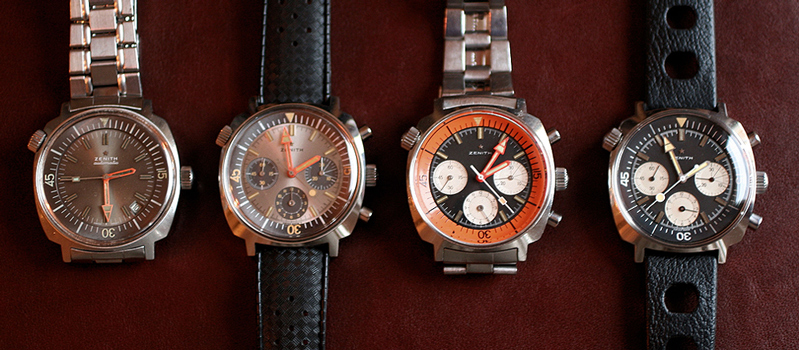 (Click picture to enlarge)
The ladies Sub-Sea diver in this post is more of an enigma. While ladies watches don't get the coverage of their male counterparts, there is usually information to be unearthed about them. Not in this case however, as there was no information to be found anywhere about this model – pretty rare then I'd say. 😉
Competition for such a parts jumble is always less than for a complete watch (and especially so for ladies watches), so I was pleased to win all the lots without too much of a battle. Buying a collection like this is always a gamble as nine times out of ten you'll find that parts are either damaged or missing in every movement and you still need additional parts to finish the project.
As the date is displayed between the 4 and 5 markers on this model it was essential that I won the gold dialled parts movement to ensure that I had at least one movement with the correct date ring. The majority of watches have the date aperture at 3 o'clock which means that date rings aren't generally interchangeable as they would be out of alignment for a 4.5 date display.
When the parts arrived I was pretty pleased with my haul as the case and bracelet were in near perfect condition and I had almost three complete movements, albeit in varying states of repair. I was still missing a winding stem, second hand and crown, but all in all, not too bad.
I was also pleased to find that the casing ring was still inside the case. Without this the movement can't be properly secured and I would probably have had to make one as sourcing an original would have been difficult.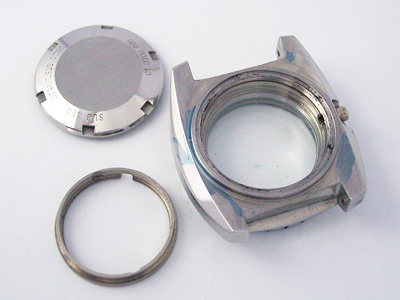 The movement in this watch is a Zenith cal. 48.5, a 17 jewel automatic with a beat rate of 28,800 bph. The majority of vintage Zenith movements were developed in-house but this one is based on the ETA cal. 2671, a Swiss high-beat calibre that was first produced in 1971 and is still in production today. The only differences appear to be the mainplate which is stamped '48.5' and the winding rotor which is Zenith branded.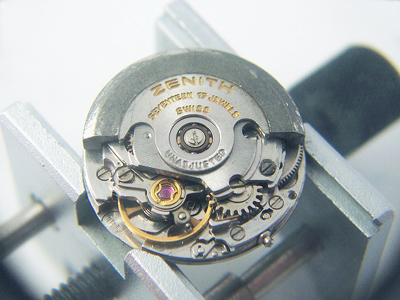 The movement above was the worst of the three which was encouraging as, apart from the broken stem and the tarnished weight on the winding rotor, the rest of the movement looked to be ok. The first job was to disassemble all three movements and select the best parts from what was available. The resulting parts were then cleaned and the rest of the build was handled just like a regular service job.
I rustled up a suitable second hand from my parts stock and a Zenith branded crown in the right size was quickly sourced too, so everything was starting to take shape.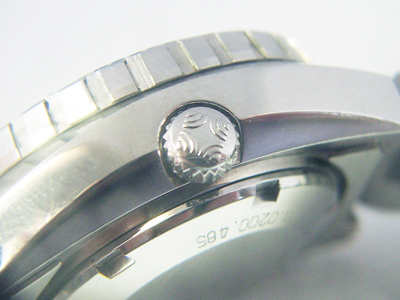 Being an ETA based movement that is still in production, the winding stem was easy to source too so the rest of the job was plain sailing from there, Here's the result – not bad at all from a collection of parts.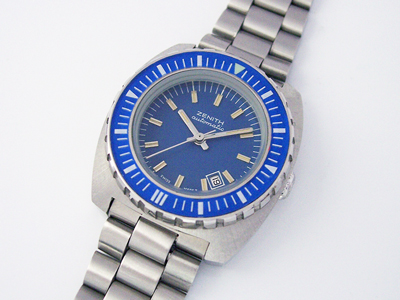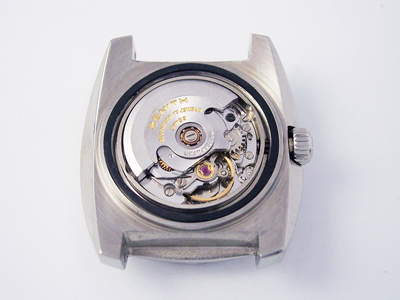 Just after completing the project I was surprised to find another identical NOS (New/Old Stock) dial, hands and case set for sale on eBay, this time in Italy. I was confident that I could still make another good movement from the remaining parts, so I put in my bid again and was pleased to be the only bidder.
As with the first one I was missing a winding crown and stem, but at least I knew where to source them so they were  duly ordered and I started the whole service and rebuild process again… a case of horological déjà vu!
Here they are together.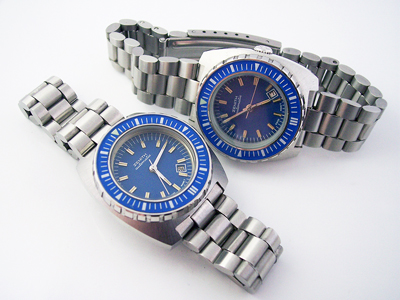 Rich.