I've written quite a few posts about Bell-Matics and their calibres, but it's been well over a year since one appeared on the blog. This one however is somewhat rare, and in some respects is the missing chapter of the story.
(Click pictures to enlarge)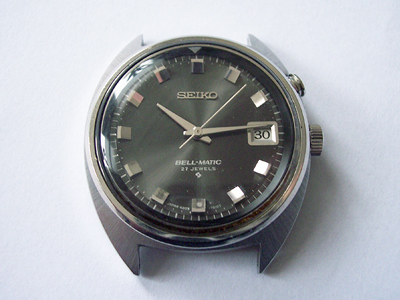 What makes this Bell-Matic stand out from the crowd is that it has a date only calibre, the cal. 4005A, rather than the day/date cal. 4006A found in the majority of Bell-Matics.
The date only models were produced in the early days of the production cycle, and only for a couple of years before being phased out.  Only two models were available, the subject of this post (also available with a blue dial) and this one, available with either a black or white dial.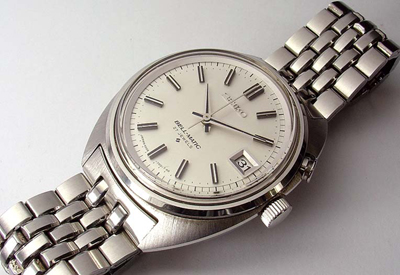 The cal. 4005A was only available in a 27 jewel version and like all Bell-Matic calibres, the jewel count is clearly displayed on the winding rotor, and the calibre number on the winding bridge.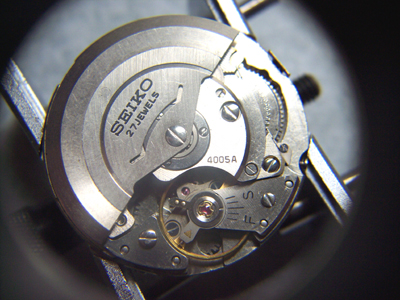 The main difference between this calibre and the 4006A is of course the calendar mechanism. With the dial removed, comparing the two calibres you can see that the advancing wheel and day jumper found in the 4006A are missing from the calendar plate on the 4005A.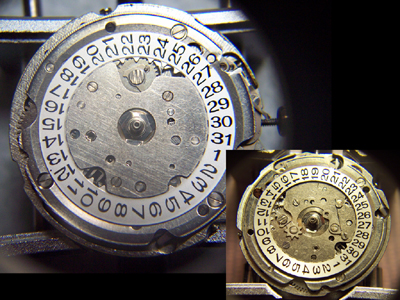 In terms of other differences, the unlocking wheel has no raised boss for the day disc, and the date ring is not as deeply recessed as no additional space is needed to accommodate the day wheel.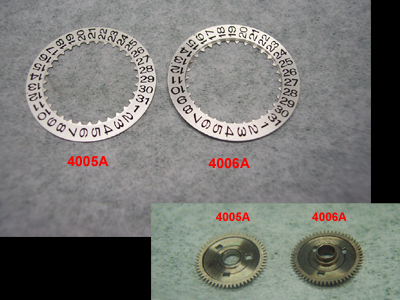 Other than that the calibres are identical from a technical perspective, but there are subtle differences in the case designs for the two model lines. The date only models use a different crystal for example.
Although running on arrival, this Bell-Matic had 'lost it's voice'. The alarm wouldn't wind up any more, which all pointed to either a problem with the crown wheel or a broken alarm mainspring.
Sure enough, the problem turned out to be broken alarm mainspring, so with that replaced and the rest of the movement serviced, it was back up and running again.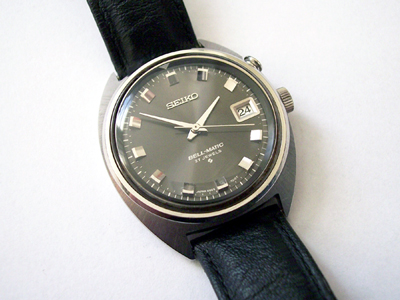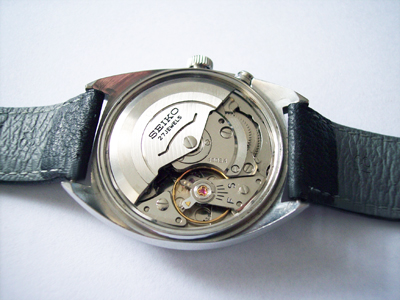 Rich.
** Many thanks to Neil Lever for letting me feature his watch on the blog. **