Heuer Bundeswehr (Valjoux Cal. 230)…
This watch is known as the Heuer Bundeswehr chronograph, or "Heuer Bund" for short…
(Click pictures to enlarge)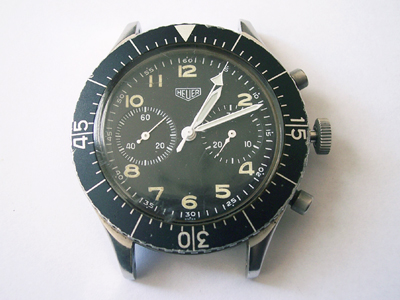 The majority of these watches have the word "Bundeswehr" engraved on the back as they were issued to German servicemen from 1968 until the late 1970's (Bundes Wehr means 'Federal Defence' in German). This watch however, is different and somewhat rarer, as it was issued to a member of the Norwegian Air Force.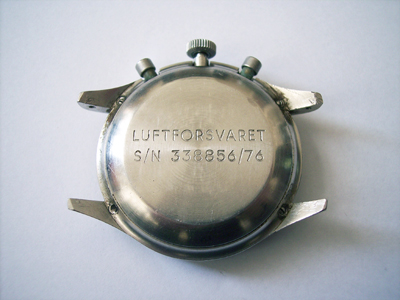 The Bundeswehr watches were produced with a number of dial variations over the years (see here) and all featured high quality flyback chronograph calibres. The calibre in this particular watch is the Valjoux cal. 230; a hand wound 17 jewel calibre with a rate of 18,000 bph.
In a regular chronograph calibre the chronograph mechanism must be stopped before it can be reset. In a flyback chronograph, the mechanism can be reset while it is still running, making it particularly useful for timing consecutive short interval events. This is achieved by the addition of a additional lever in the chronograph mechanism. When the reset button is pressed the flyback lever lifts the coupling clutch from the chronograph centre wheel allowing the mechanism to reset.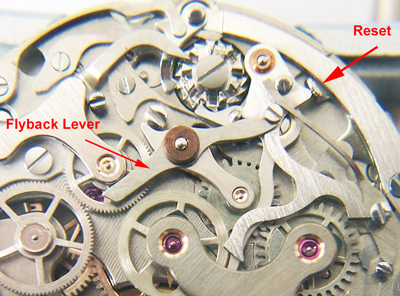 As well as having a flyback function this calibre also hacks, which means that the movement stops when setting the time so it can be set to exactly to the right second.
With the chronograph mechanism and train wheel bridge removed you can see the hacking lever. When the stem is pulled out the setting wheel moves forward and the hacking lever pivots around the screw arresting the balance wheel (not present in the picture below). You can see in this picture that the main plate has been decorated with a perlage pattern underneath the balance wheel. The same decoration is also present on the dial side of the calibre, another sign of quality (see inset).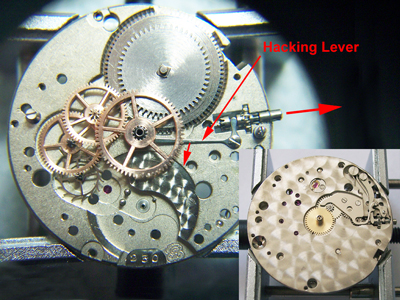 When the watch arrived, it was running but the chronograph mechanism was not working and further investigation revealed that the mechanism was stuck in the reset position. Thankfully, none of the parts were damaged, so after a service the movement was returned to fully working condition again and showed little sign of use.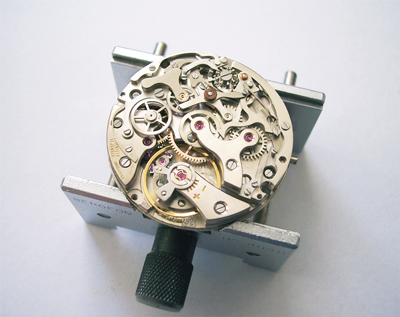 With the movement up and running, the last thing to do was to relubricate the pushers and clean the case…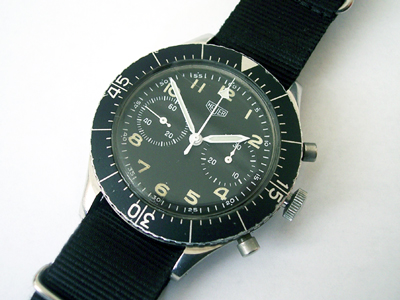 Rich.
** Many thanks to Jarl Fr. Erichsen of Classic Heuers for letting me feature his watch on the blog. **