L.A. Leuba Chronograph (Venus Cal. 188)…
Another vintage chronograph, this time from the Swiss company L.A. Leuba…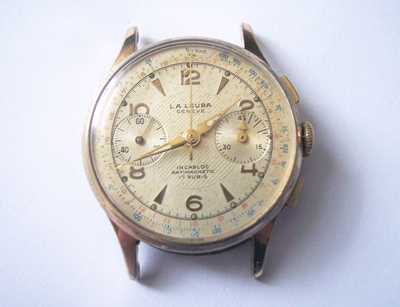 L.A. Leuba is short for "Louis A. Leuba", a company which surprisingly had no association with the much larger and well known Swiss manufacturer, Favre-Leuba.
The movement in this watch is a Venus cal. 188, a popular cam-lever chronograph calibre produced between 1949 and 1966 and can be found in many of the chronographs from that period.
After production ceased the design was used again by Valjoux in their cal. 7730 (the only modification was to the stud carrier, making it moveable to make beat correction easier). A few years later the design of the cal. 7730 was refined further and became the calibres 7733 and 7734 widely used throughout the 1970's. Looking at a Venus 188 and a Valjoux 7734 side by side, it's not hard to spot the lineage…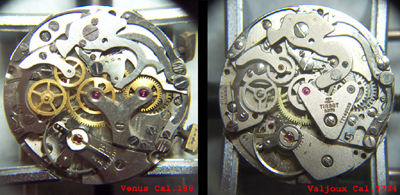 This particular watch arrived with a winding problem; it could be wound endlessly and the power reserve was less than 12 hours, which all pointed to a problem with the mainspring.
After removing the chronograph components it was plain to see that the mainspring had been heavily over oiled during the last service, the oil had leaking out all over the movement. However, after swimming through the oil the winding problem was quickly revealed, the mainspring had failed at the endpiece (inset)…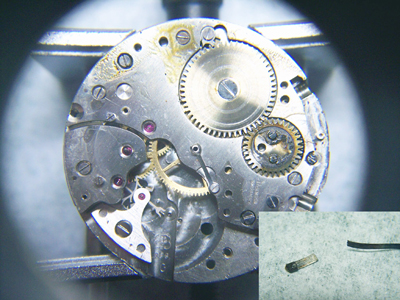 Judging by its condition, there is a good chance that this was the original carbon steel mainspring installed when the watch was first made. After many years of use (or less if you're unlucky!) carbon steel springs can fail as they are susceptible to corrosion, often as a result of being handled during servicing. The problem is eliminated in modern mainsprings which are made from 'white alloy' (an alloy of cobalt, nickel, & chrome) and are corrosion resistant.
With a new white alloy mainspring ordered and installed, and the rest of the service completed, all that was left to do was renew the patchy lume on the hands. Although the dial shows its age a little, it has that great vintage look, and the movement is still in very good condition…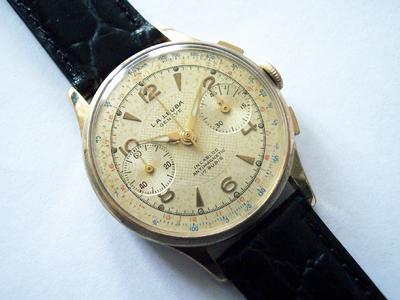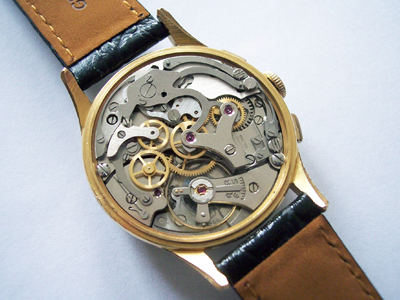 One last thing to notice about this watch are the three longer marks on the minute register at 3, 6 and 9 minutes. These marks were used to time telephone conversations back in the 1950's when calls were charged in three minute intervals… if you talked for 10 minutes or more you probably couldn't afford it!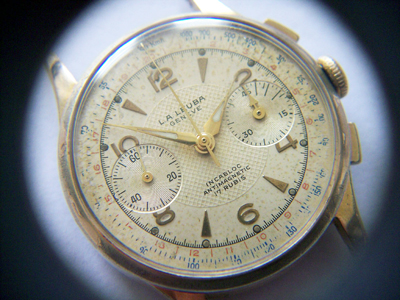 Rich
** Many thanks to Marc Vos for letting me feature his watch on the blog. **