Heuer Temporada (Valjoux Cal. 7733)…
Still in the possession of the original owner who bought the watch in the early 1970's, it's safe to say that this Heuer Temporada had seen some action.
(Click pictures to enlarge)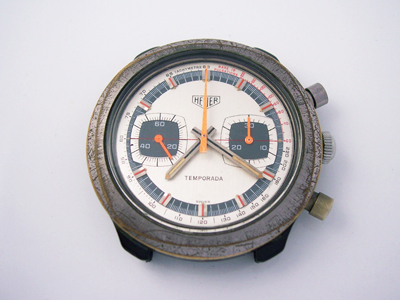 First introduced in 1972, the Temporada (meaning 'Season' in Spanish) was a departure from the rest of the chronograph range as it was the only Heuer branded model to be housed a one-piece fibreglass case.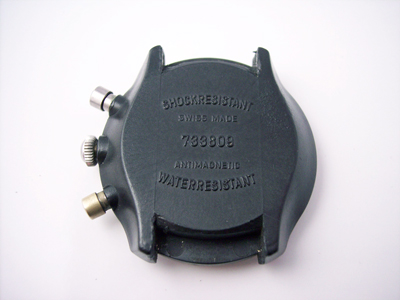 One advantage of using a fibreglass case is the watch is incredibly light, you hardly know it's on your wrist – some people like that, while others prefer to feel the reassurance of a solid steel case – Camy Airport anyone?
Whether the fibreglass case was something of an experiment for Heuer, or it just proved unpopular I can't say, but the model was discontinued in 1975 after a production run of just 3 years.
Here is a early catalogue shot showing the Temporada which also states that a second model was available with a gold plated bezel and a champagne dial. The watch was also available with red rather than grey subdials.
Like all one-piece case designs, to gain access to the movement, the outer bezel has to be removed, the split stem separated, and the glass removed before the watch can be lifted out of the case.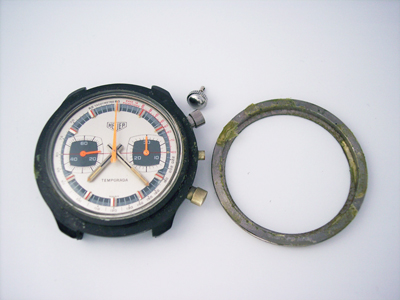 With the watch disassembled, the obvious thing would have been to replace the tired bezel, but despite exploring various avenues, I didn't manage to track one down. For a watch that was produced for only 3 years, and 40 years ago, that wasn't really a surprise, so the only option was to send the bezel off for re-plating. More on that later.
Once out of the case, the dial was still in decent condition, but the hands had seen better days. The paint on the chronograph hands had deteriorated and flaked off at the slightest touch, and the tips of the main hands had faded and would need repainting.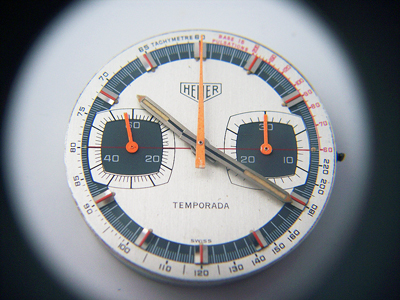 Things looked better for the movement, a Heuer branded Valjoux cal. 7733 which was still in great condition, and just needed a service to put things right.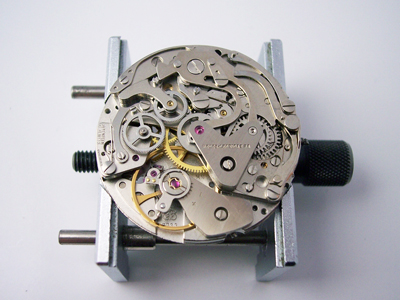 When the bezel came back from re-plating, the results were mixed. The plating was flawless, which was good, but much of the original stepped profile had been removed as part of the process, probably when the remainder of the old plate was removed.
Rather than lose the effect altogether, I masked off what was left of the step and gave it a brushed finish. The brushing was only light as I didn't want to go through the plate again on the upper lip. It's not perfect, but it does go some way to restoring the original look.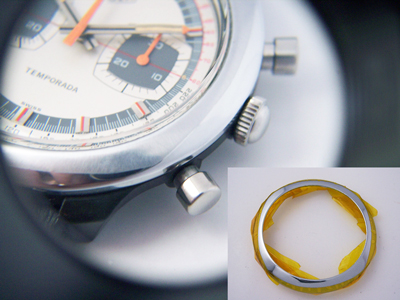 With the worn pusher replaced and the hands re-painted, polishing the crystal was the last job before final assembly.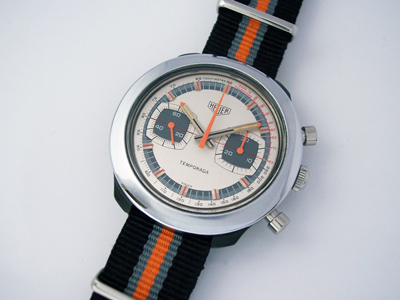 Rich.
** Many thanks to John Hewitt for letting me feature his watch on the blog. **