Lemania Chronograph (Lemania Cal. 15 CHT)…
Another military watch, this time an early single pusher chronograph from Lemania.
(Click pictures to enlarge)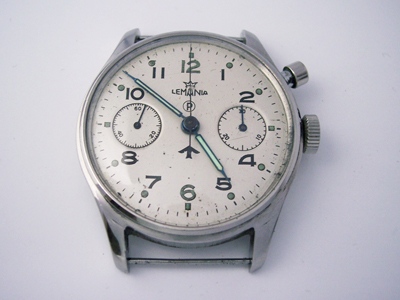 Single pusher chronographs were issued to British military personnel from the mid 1940's until the mid 1970's. Two versions of the round cased model, known as Series 1 and 2, were issued from the mid 1940's before being superceded by the Series 3 which is easily recognised by its asymmetric case.
As with all military timepieces, turning the watch over you will find the issue markings engraved into the caseback.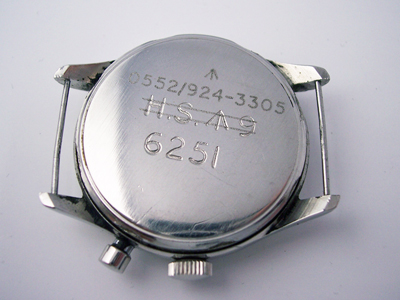 A few things to notice about the markings on this watch; The letters "H.S" stand for "Hydrographic Service" which shows that the watch was issued for Naval use, the Broad Arrow symbol follows, and then the number 9 denotes that it is a chronograph wristwatch. Below that is the serial number for this particular watch.
You will also see that the original designation number has been crossed out and a new number engraved above it. When Britain joined NATO in 1949, all equipment had to be reclassified in accordance with NATO's National Stock Number (NSN) system, and that is what you can see above the original markings, 0552 denotes Naval use, and the 924-3305 identifies this particular type of watch.
The watch was running on arrival, though not very well, and on opening the caseback it was pretty obvious that the movement hadn't been serviced for quite some time.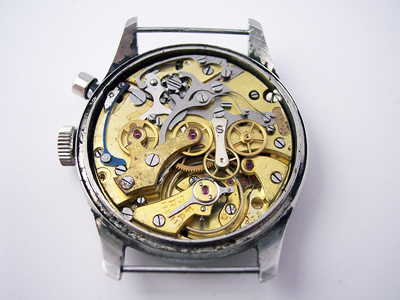 The calibre inside is a Lemania cal. 15 CHT which was derived from a pocket watch movement, and serves as the base calibre for the Lemania cal. 2220 used in the later Series 3 chronographs – see an example here.
If you compare the two movements you notice that the bridges on the cal. 15 CHT are gilt plated, and that the earlier movement has no Incabloc shock system to protect the balance staff pivots. A version of the 15 CHT was also available as a traditional two pusher chronograph, the cal. 15 TL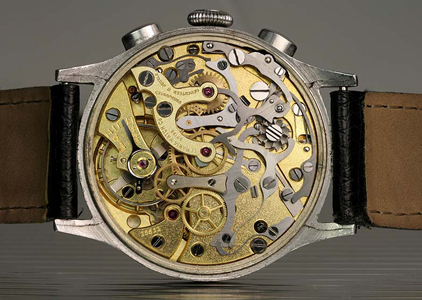 The watch had been fitted with the wrong crystal which was literally rattling around inside the case. As you can see in the first picture, quite a lot of dust had made its way past the crystal, but thankfully no moisture, so the dial and lume were still in good condition.
With the movement serviced, the dial and case cleaned, and the correct crystal fitted, things were looking much better. Just a small amount of pitting on the plated bridges remained, but all in all, a good result.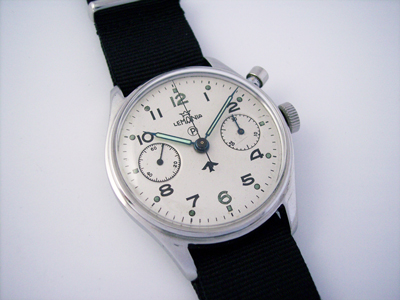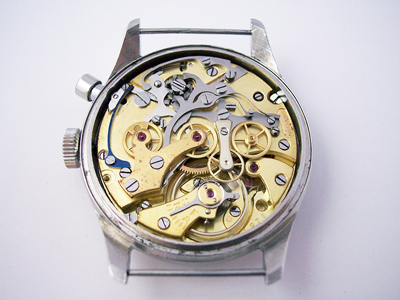 This watch was also made with a black dial, and as I had both versions of the watch in for servicing at the same time, here is a picture of the two models together.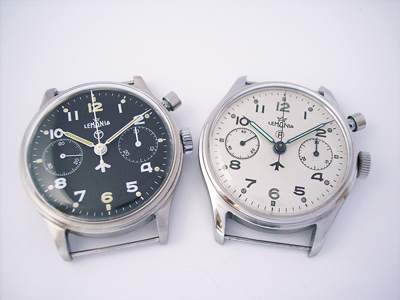 Rich.
** Many thanks to Lee Curtis for letting me feature his watches on the blog. **