Rotary Chronograph (Landeron Cal. 149)…
Arriving with its hands damaged and scattered all over the dial, things weren't looking so rosy for this Rotary chronograph.
(Click pictures to enlarge)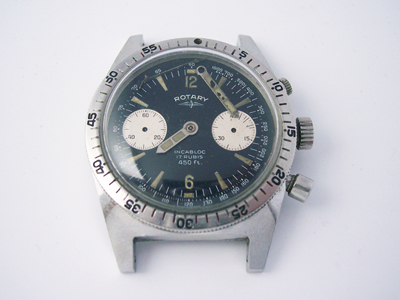 Rotary was started by Moise Dreyfuss in the Swiss town of La Chaux de Fonds in 1895, and is still owned by the Dreyfuss family today, making it the oldest family owned and run Swiss watchmakers. The "winged wheel" logo was first introduced in 1925, and since then Rotary have always been a recognisable name in high street retailers. Though they never produced calibres in-house, they built watches around good quality calibres from makers such as Valjoux, Landeron, ETA and A. Schild.
The watch in this post is from the late 1960's or early 1970's, and the same model can often be seen with the word "Aquaplunge" on the dial. It arrived in a non-running condition and in poor cosmetic shape, the lume in particular had seen better days.
Opening the caseback uncovered a Landeron Cal. 149 in pretty poor shape, with rust visible on some of the parts.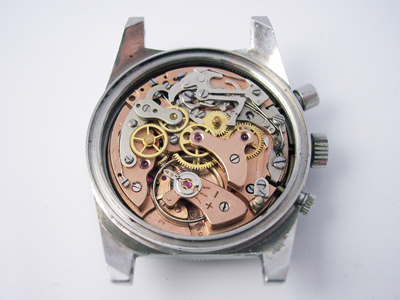 As the disassembly progressed, it was obvious that the watch had been sitting around with water inside for quite a while as rust had almost eaten right through the shaft of the fourth wheel and the chronograph hearts in particular were in poor condition.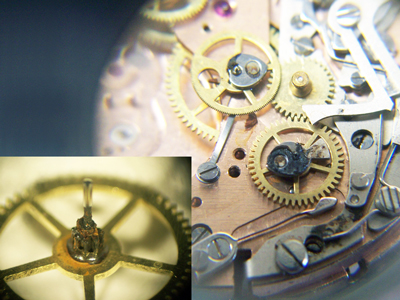 A Jacot tool was used to remove rust from the wheel shafts and pivots, and the chronograph hearts were cleaned, re-shaped with a needle file, and then polished to ensure that they would return the hands properly to zero on reset. The only part that couldn't be saved, not surprisingly(!), was the fourth wheel, so a replacement had to be sourced.
With the movement cleaned and serviced, it was on to the cosmetic work. The hands and dial were cleaned and re-lumed/re-painted, the case was cleaned, new pushers and a new crystal were fitted, and finally the markings on the bezel were all stripped and re-painted to bring the watch back to its former glory.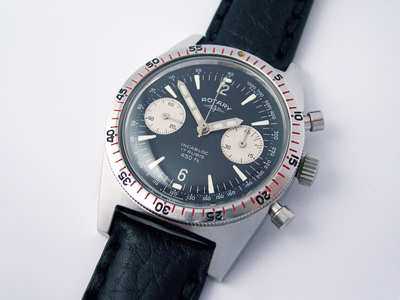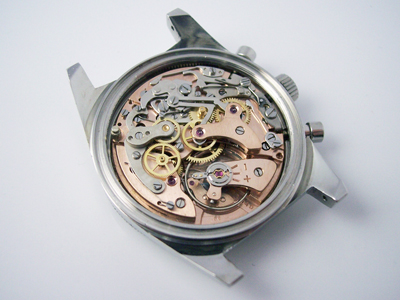 Rich.
** Many thanks to Menno van Rij for letting me feature his watch on the blog. **