Nivada Grenchen Chronomaster (Valjoux Cal. 92)…
I bought this Nivada Grenchen Chronomaster Aviator Sea Diver (what a title!) from the 1960's which was certainly in need of some attention.
(Click pictures to enlarge)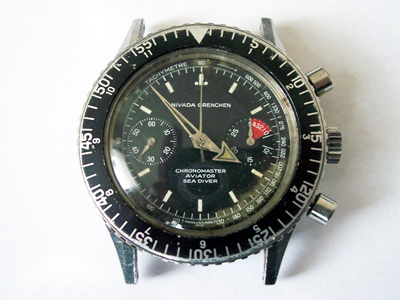 Although not one of the major Swiss players, Nivada started production in Grenchen, Switzerland in 1925. Over the years, the company released a number of good looking models with catchy names such as 'Antarctic', 'Depthmaster', 'Chronoking', 'Taravana' and 'Alertamatic'.
Like many others, things were going well until the company was hit hard by the quartz revolution, and it eventually closed it's doors in the late 70's or early 80's.
You'll often see the Nivada name linked with another watch company, Croton, who were actually the US distributor for Nivada watches. It's not uncommon to see some of the Nivada watches branded Croton (or sometimes Croton Nivada Grenchen) for the US market, the Chronomaster being one of them.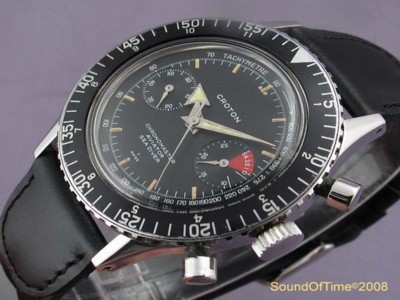 The Chronomaster was produced with a host well respected calibres over the years, namely the Landeron Cal. 210 & 248, the Venus 210 and the Valjoux Cal. 23, 92, & 7733. In my watch is one of the best, a Valjoux Cal. 92; a manually wound, 17 jewel column wheel chronograph which was also used in many of the Heuer chronographs from the same era.
My watch had two main issues, the keyless works were jammed so the watch wouldn't wind, and the reset mechanism had been set up incorrectly meaning that the watch would automatically reset when stopping the chronograph. Thankfully, no parts were damaged so after a service the movement was back up and running again.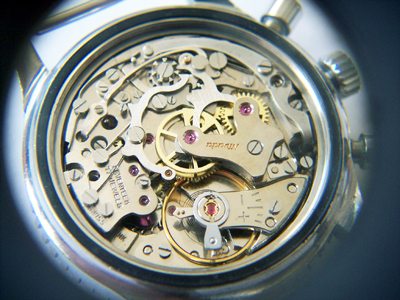 With the movement finished the rest of the work was cosmetic, starting with a relume for the hands and a polish for the crystal. There wasn't too much I could do to repair the dial, but I did the best I could to patch in the faded area. It isn't perfect but it isn't noticeable in daily wear.
I didn't polish the case on this one, with the wear on the edge of the bezel, a mark free case wouldn't have looked right, but a good clean certainly made a big difference.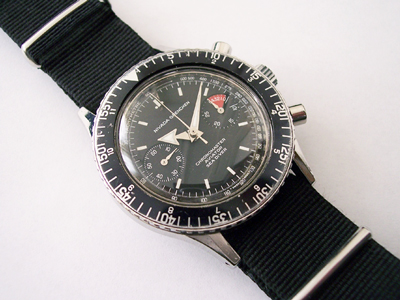 Rich.