Breitling Datora (Valjoux Cal. 7734)…
Here's a watch with a real 1970's flavour, a Breitling Datora.
(Click pictures to enlarge)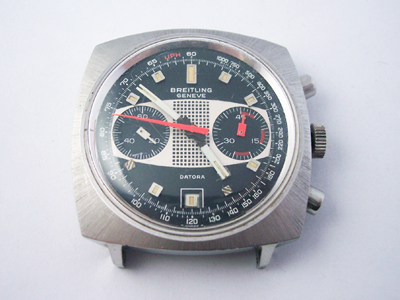 During the 1970's Breitling released a range of watches with very striking designs, including some of the Chrono-Matic models and several models in the Datora line.  All of the Datora models were fitted with a calibre widely used in this period, the Valjoux cal. 7734 cam lever chronograph – one thing I've noticed is that they used the version with the 45 minute register on all Datoras, rather than the more commonly seen 30 minute version. Pictured below are some of the other Datora models.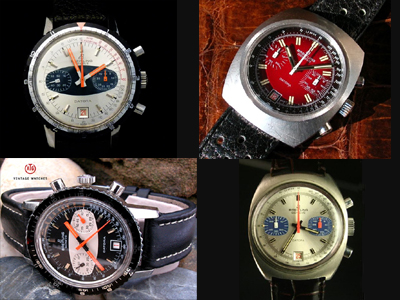 The watch was running on arrival and the chronograph would start and stop but couldn't be reset. A cursory look at the movement quickly revealed the problem: the screw holding the reset lever in place had broken off, probably as a result of being pressed too hard.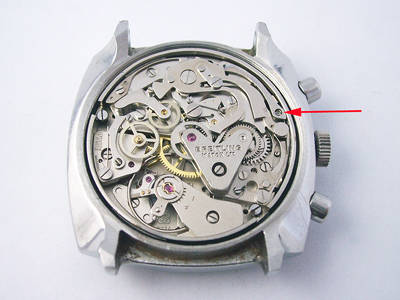 The eagle-eyed amongst you may have noticed in the first picture that two of the hour markers were missing from the dial. Thankfully they were still rattling around the dial, and closer inspection revealed that they had both been unsuccessfully glued in the past (see inset).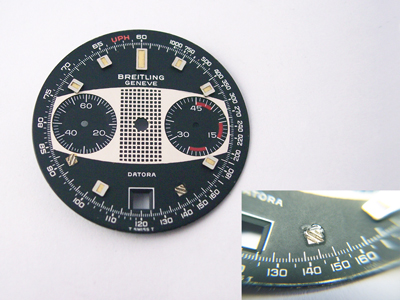 Apart from the broken screw, there was nothing else wrong with the movement, so after servicing, the hour markers were re-attached, the case was cleaned, and a new crystal fitted.
As the paint on the minute register hand was also damaged, the centre sweep second and minute register hands were repainted to match the red highlights in the dial. Here is the result.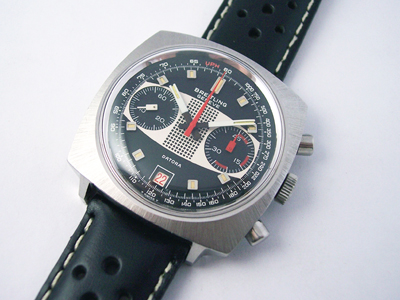 Rich.
** Many thanks to Tjeerd Jellema for letting me feature his watch on the blog. **