Seiko 7017-8000…
Something a little different this time, one of the 71xx series chronograph models, this one from 1971. It's safe to say that this one was in a bit of a state; it didn't run, the lume was a mess and the trashed hands weren't even a matching pair…
(Click pictures to enlarge)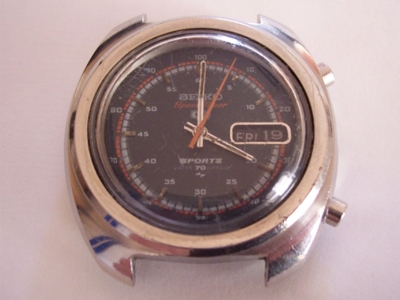 Apart from the obvious cosmetic problems, the seller said the watch had a problem with the mainspring, which was half right, as on further investigation it was missing it's click spring so it wouldn't hold power. It also had a problem with the day changeover, the hairspring was badly damaged and top pivot of the chronograph centre wheel had been snapped off… let the parts search begin!
The movement in this watch is the 7017A which, like the 6138/9 calibres, also uses a vertical clutch mechanism to provide the chronograph function. Although the 7017A does not have a minute register, the chronograph operation is very similar…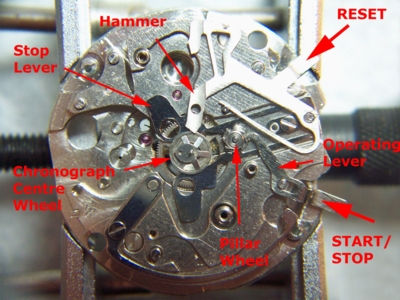 On pressing the start/stop button, the operating lever pushes the pillar wheel forward which prises apart the stop lever, allowing the clutch ring to drop onto the fourth wheel below. The second hand starts to move as it is mounted on the shaft of the chronograph centre wheel, which extends through the movement and out onto the dial.
On pressing the start/stop button again the reverse happens. The pillar wheel is pushed forward once more, releasing the pressure from the stop lever which then retracts, contacts the clutch ring again, and raises the mechanism from the fourth wheel below.
When the reset button is pressed, the spring loaded hammer moves across and contacts the chronograph heart, rotating the mechanism back to zero from any position.
As well as having a regular chronograph, this watch also has a 'flyback' feature. This means that the reset button can be pressed to return the counter to zero at any time, even if the chronograph is still running. This is a handy feature if you need to time successive short events, ie. laps in motor racing.
To achieve this, the chronograph centre wheel has a separate section within it…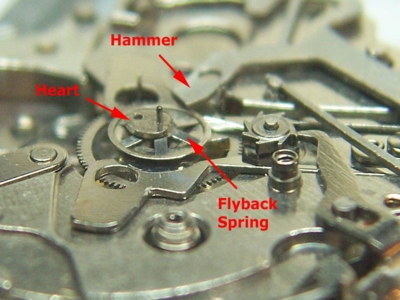 When the reset button is pressed, the hammer contacts the heart, overcoming the pressure in the flyback spring. The flyback mechanism then slides around within the chronograph centre wheel, returning the second hand to zero. This happens without affecting the rotation of the fourth wheel and clutch ring, which ensures that the timekeeping of the watch remains undisturbed.
Ok, back to the watch. After a lengthy search for the parts I needed, I could finally get started. The only thing I couldn't source was a set of suitable hands, so I had to use a pair from a different model. They aren't ideal, but they're ok for now, and certainly better than the ones it came with!
Here's the watch freshened up and ready for some more 'Speed Timing'…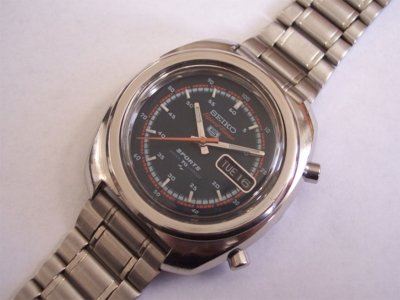 Update Feb '08: I've since found a pair of the right hands, so here's a shot of the watch looking the way it should…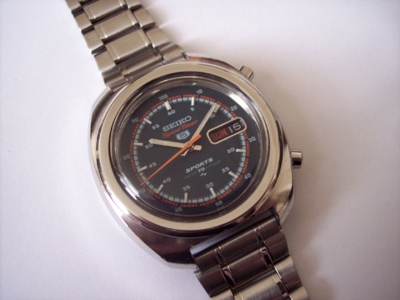 Rich.