Zodiac Chronograph (Zodiac Cal. 90)…
Here is a great looking watch from the 1970's, a Zodiac chronograph.
(Click pictures to enlarge)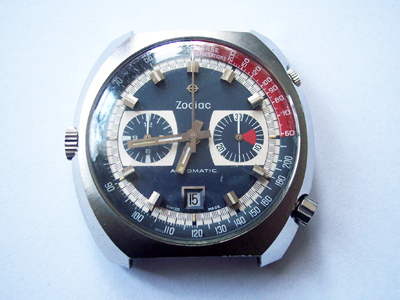 Although running on arrival, the watch had a number of problems; it was missing a pusher, and the crystal, stem, and one of the chronograph levers were all broken. Parts would be needed to put this one right.
Inside this watch is a Zodiac Cal. 90 which I'm sure the sharp-eyed among you will spot immediately bears more than a passing resemblance to a Heuer Cal. 12.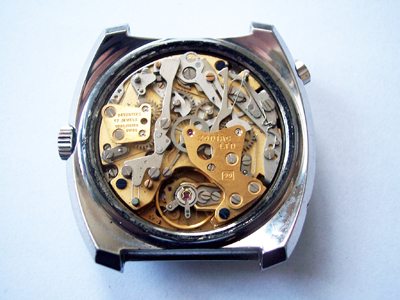 During the 1970's Heuer produced watches for other brands such as Clebar, Zodiac, Hamilton and Tradition, often identical to their own models but sold at a lower price point. These watches are referred to as "Poor Man's Heuers" by the Heuer collecting community as they sell for significantly less than their Heuer branded counterparts these days, but represent great value for money if you can find them.
Tracking down a chronograph lever and new stem was quite easy, but finding a suitable tension ring crystal proved harder than I thought. The pictures don't really show it, but this is a large watch, the face of which is nearly all dial. Because the tachymeter ring on this model is inside the crystal rather than being mounted on an external bezel, a much larger crystal is needed, and finding one locally proved difficult. I eventually had to order one from overseas.
Finding a replacement 'fluted' pusher was also difficult as the same style of pusher is used on Heuer's Autavia models so they are quite a sought after item. To get the watch up and running again, a decision was made to replace both pushers with standard round headed pushers as it wouldn't be much work to replace the pushers at a later date should a second fluted pusher be found.
However, as is often the case with work-around solutions, that wasn't the end of the story. When the new pushers were installed they were nowhere near long enough to reach the movement due to the large size of the case, so I had to make some pusher screws with longer heads to solve the problem.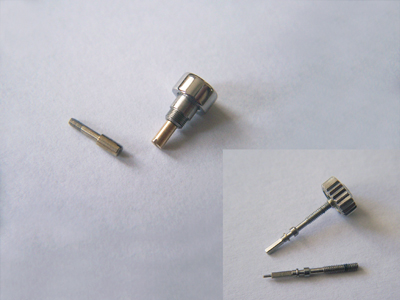 In the inset picture above you can see that the tip from the original stem has broken off. Though the stem may still work without the tip in some cases, it is essential for keeping the stem in line. Any lateral movement while winding or time setting would very quickly wear parts in the keyless works, so the stem should be replaced as soon as possible.
With all the replacement parts sourced, the movement was serviced, the case cleaned, and the watch re-assembled. It may be a Poor Man's Heuer to some, but I wish I had a bag full of them!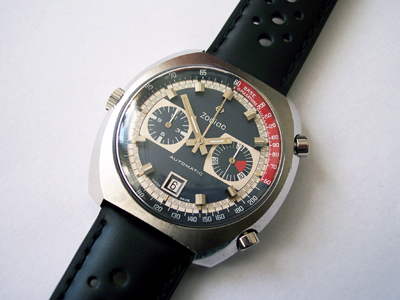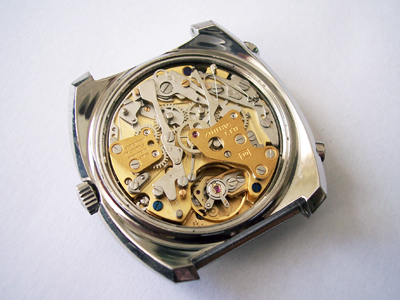 Rich.
** Many thanks to Henrik de Keizer for letting me feature his watch on the blog. **