Nivada Autochron (Lemania Cal. 1341)…
Another great looking chronograph from Nivada, this time a Taravana Autochron.
(Click pictures to enlarge)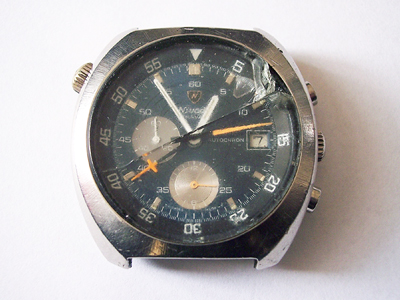 Bought while on vacation in Australia in 1973, this watch is still in the possession of its original owner. It was worn daily until the early 80's when an accident while repairing a tractor left the glass broken and the wearer with a badly sprained wrist. (It must have been some impact as the crystal on this watch is 3mm thick).
Nivada are an under-rated brand in my opinion as they produced a variety of great looking chronographs over the years, all fitted with good quality calibres. Although the movements were often marked Nivada they never actually produced their own calibres, opting instead to re-brand ebauches from well known Swiss manufacturers such as ETA, Valjoux, and Lemania.
The calibre in this watch is a Lemania Cal. 1341 which I described recently in a post about a Tissot Navigator which has the same calibre. If you want to see a bit more 'tech' stuff, you can read that post here.
This Autochron has a rotating inner bezel which can be used as a timer, and is turned using the second crown on the left hand side of the case. Other models were also available in the same series, one with a fixed Tachymeter inner bezel…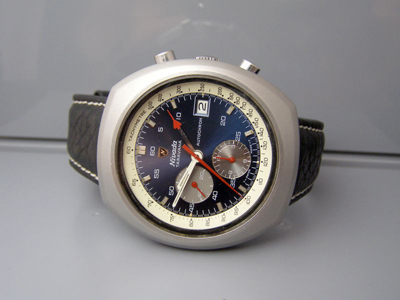 … and also a model with a 'square' case, reminiscent of the Heuer Silverstone chronograph from the same period.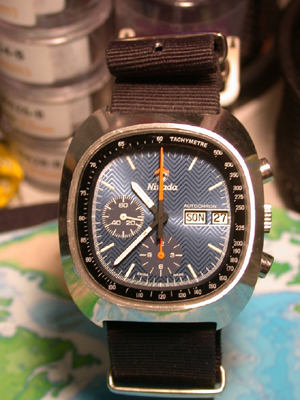 The Autochron also bears more than a passing resemblance to the popular Sinn 142 which featured the same case and a reworked version of the Lemania cal. 1341, the Lemania cal. 5100.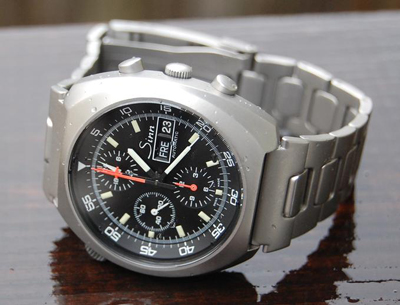 With regard to the work required on this watch, needless to say that a new crystal would be needed, along with a service after it's 25 year 'retirement from active duty'. As a piece of the glass was floating around inside the watch, and I was concerned that it may have scratched the dial or hands, but luckily that wasn't the case. So, with a new glass fitted and the movement serviced, the watch was back to its best.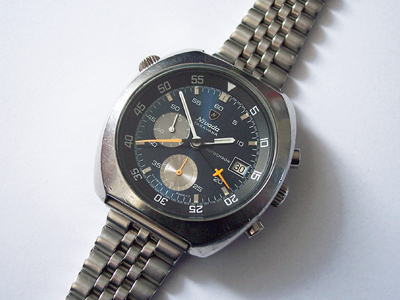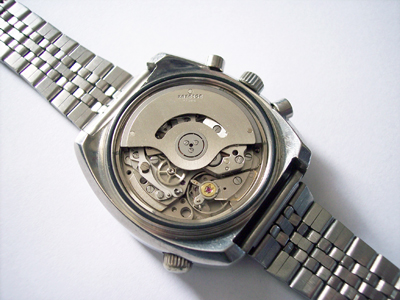 Rich.
** Many thanks to John Graham for letting me feature his watch on the blog. **