I took a chance on another gloomy eBay picture recently, this 1970's Oris Star ChronOris.
(Click pictures to enlarge)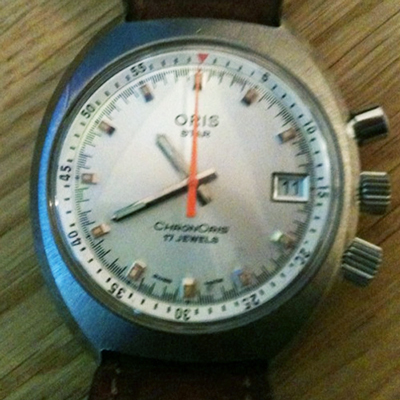 As soon as the watch arrived I knew that I'd done the right thing, as apart from a couple of minor marks on the dial, and a hint of wear on the case, the watch was in great shape.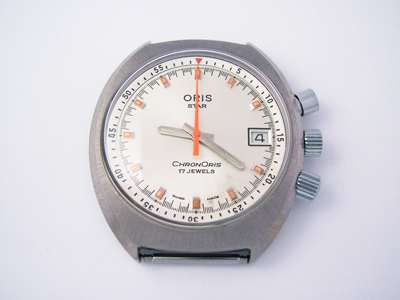 As the case and crowns are chrome plated on this model, after decades of use they can wear through and look untidy, but that certainly wasn't the case here. All the functions were working perfectly, and opening the caseback, I could see that the movement was in great shape too.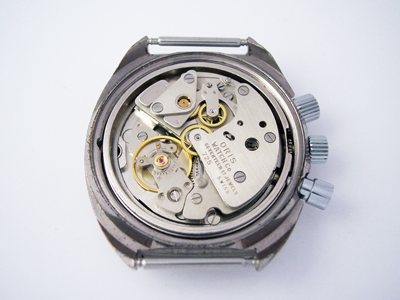 I've written about the ChronOris before on the blog, describing how the chronograph works and a section on its history – if you would like to read that post you can do so here. Being one of the bright orange models, the last one was a bit too 'loud' for me, so I sold it on. This white dialled model is much more to my taste, and was not one I'd seen before.
In the previous post I mentioned that the ChronOris had a production run of just 27,000, but I now find that hard to believe. Produced in two case styles, and with at least eight different dial variations, that production figure seems very low to me – the model in this post was available with four different dial variations, in three colours and two of them have an additional tachymeter scale printed inside the hour markers.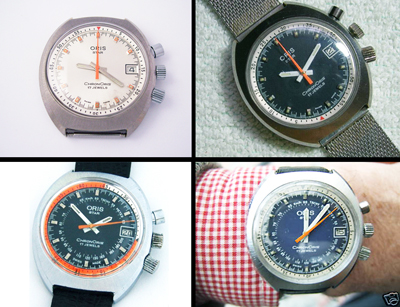 Even Oris can't confirm how many of the original ChronOris were made, as they don't have much information on the production numbers of their vintage models. It's possible that the records were lost/destroyed during the early 1970's when the company was bought by ASUAG (Allgemeine Schweizerische Uhrenindustrie AG) – the holding company that went on to become the Swatch Group.
Despite their earlier technical achievements, Oris was subsequently marketed as an inexpensive watch producer within the ASUAG group. Much of their mechanical tooling was sold off in favour of quartz production, which damaged the brand, resulting in plant closures and job losses.
It wasn't until 1982, as the result of a management buy out, that Oris returned to large scale mechanical watch production, and are now one of the few major watch manufacturers with an all mechanical line up. You can see their current range here.
I also mentioned in the last post that Oris had produced a modern version of the ChronOris in 2005. Since then, a second 'Grand Prix 70 Limited Edition' version has been released, this time with a racing green dial and adding a running seconds and GMT hand to the original design. Limited to just 1970 pieces, it was available in either a steel or a rose gold case – I'd be interested to know just how many of the gold cased models were sold, as it's a bit high on the 'bling-o-meter' for most.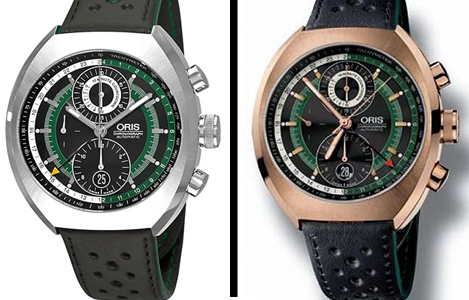 Getting back to the subject of this post. Under the microscope, the oil still looked fresh, so after regulating the watch on the timing machine, I added a striped Nato strap to compliment the colour scheme and make it a great summer watch – if we get a summer this year that is. 🙁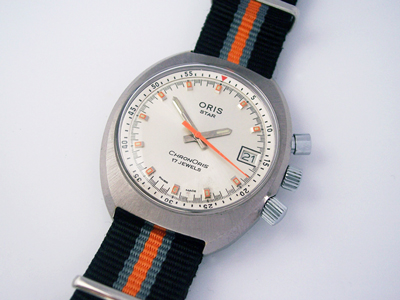 Rich.