Brace yourselves, things are about to get ugly around here! This visual delight is a Camy Superautomatic Airport.
(Click pictures to enlarge)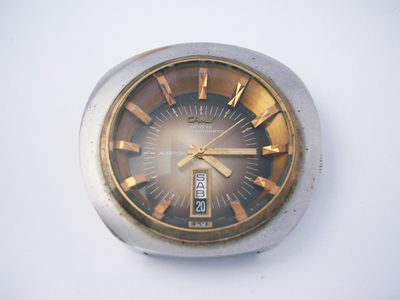 The owner of this watch said "I'm sending you the ugliest watch in the world" and well, it's certainly a candidate. Not only is the case 45mm wide, but it is also 16mm deep with a wedge shaped profile, so you couldn't hide it under your shirt cuff, even if you wanted to.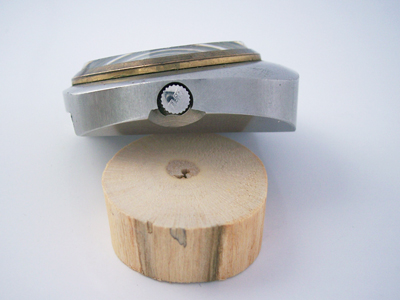 Made from a solid lump of stainless steel, the case is a one-piece design which means that the stem has to be separated, and the bezel and crystal removed before the watch can be taken out of the case from the front – I wrote a post last year with more information about opening one-piece cases, click here if you would like to read it.
Out of the case, the movement is one of ETA's mid-range calibres used in many vintage watches, a 17 jewel ETA Cal. 2780 with a Camy branded winding rotor.
Though Camy were founded in Grenchen in 1913, the company seems to be something of an enigma as despite producing watches for over 60 years, there is very little information on their history. Their major claim to fame seems to be that Raymond Weil worked there for 26 years before leaving to start his own company in 1976.
There are however lots of Camy watches still around, and like a lot of watch companies, they produced their most interesting models during the 1970's. As well as the Airport in this post, which was also available with a blue and black dial…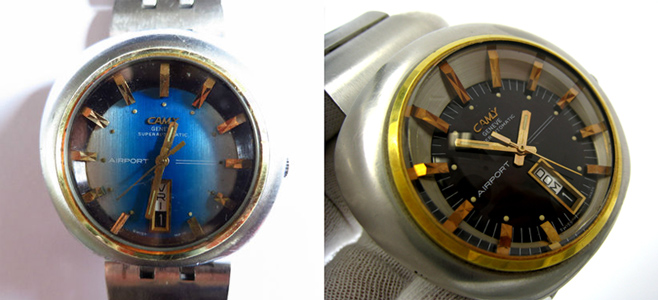 … other highlights include this Rallyking model with an internal bezel….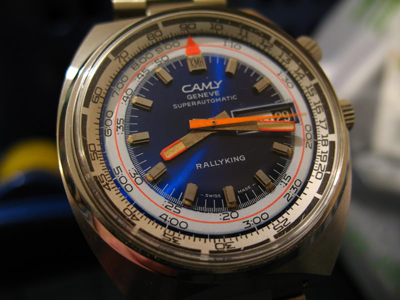 … a range of mechanical chronographs, mostly powered by the ubiquitous Valjoux Cal. 7733/4, and several eye catching diver's watches.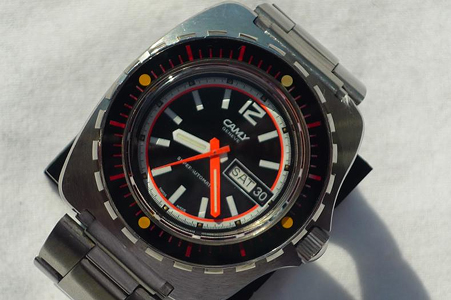 Ok, back to the Airport. The movement obviously hadn't been serviced for some time, so a full service was the first job, and while the case was still in decent condition, it did benefit from a clean and a light brush.
With the watch back inside the case, the bezel was polished to restore the shine, and a new crystal fitted. The original crystal was mineral glass and had a strange profile. I couldn't find a suitable mineral replacement so I had to use an acrylic crystal instead, which is no bad thing as it will be much easier to polish out the scratches when the inevitable 'biffing' against a door jamb occurs.
So here she is in all her splendour sporting a vintage mesh strap. Ain't she a beaut? Sometimes things are so bad, they're good. 😉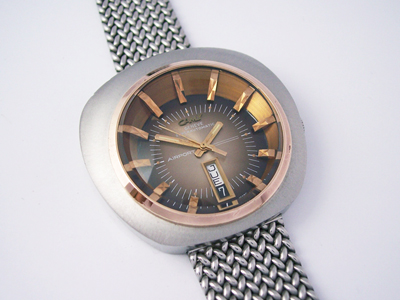 Rich.
** Many thanks to Phil Johnson for letting me feature his watch on the blog. **