Seiko 6138-0030…
Here is another one of Seiko's popular 6138 chronographs from the 1970's, and one of my favourites…
(Click pictures to enlarge)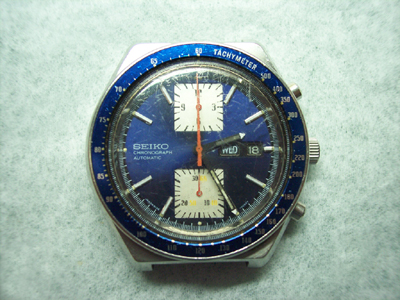 The owner of this watch bought it new in the 1970's and wore it regularly, until condensation started appearing on the inside of the crystal, a sure sign that the gaskets needed to be replaced. A local watch repair shop agreed to service the movement and fix the leaking problem, but couldn't source the correct gaskets, so rather than risk any further damage the watch remained unworn.
When assessing the watch on arrival I noticed a grinding noise from the automatic winding mechanism which would need further investigation. With the caseback removed, everything looked to be in order…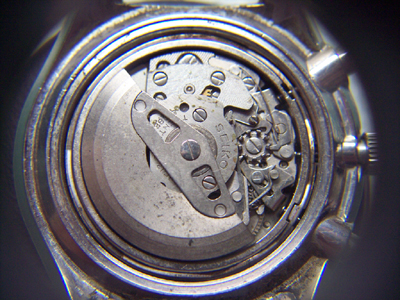 … but when I removed the winding rotor, it was clear that something was wrong as the rest of the winding mechanism simply fell apart. The bearing housing of winding bridge was broken, the ball bearings were scattered all over the movement, and the transmission wheel had been snapped in two (although curiously there was only half of it inside the watch?).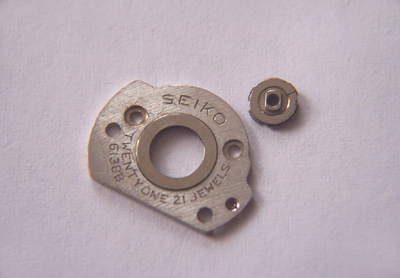 Apart from the winding problem, the rest of the movement was in good condition, so with the broken parts replaced and the movement serviced, it was time to turn my attention to the cosmetic issues.
As you can see in the first picture, the crystal had picked up its fair share of scratches and the luminous filling on the hands had darkened over the years, both of which would need to be replaced. A full set of gaskets would also be needed to cure the 'fogging up' problem.
After installing the new parts, reluming the hands, and giving the case and bracelet a thorough cleaning, here is the result. The watch still has the original 'fishbone' bracelet, which is always nice to see.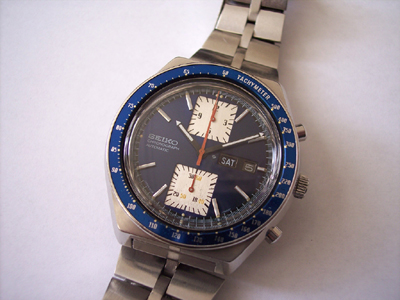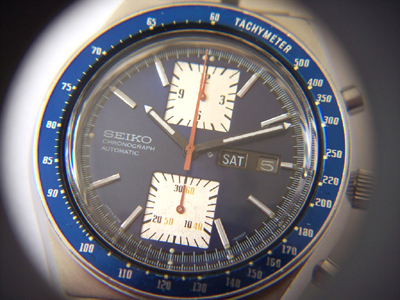 Rich.
** Many thanks to Mircea Radulescu for letting me feature his watch on the blog **