Croton Aquamatic (ETA Cal. 2472)…
This Croton Aquamatic dates back to the late 50's or early 60's and arrived in non-running condition and with a scruffy dial and hands…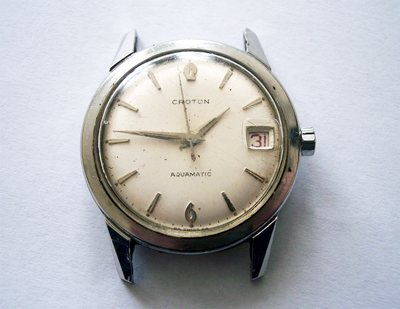 The Croton Watch Company Inc. was founded in 1878, starting as small family owned business supplying high end watches to small jewellery stores throughout the United States, gradually building a good reputation before targeting a wider market.
The Aquamatic was a long serving model in the Croton line-up, first being released in the 1940's. The watch was one of the earliest automatic winding watches, featuring a 'bumper' automatic. Here is an advert from that period championing it's winding and waterproof features. (In the small print it claims to be 13.5% more efficient than a hand wound watch when compared to *9* handwound watches… spend millions on a testing??… pah, those were the days!)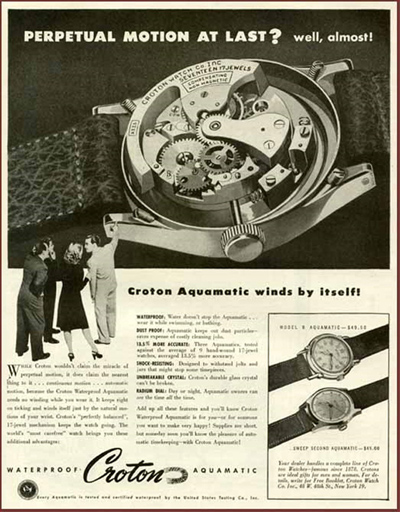 By the time my watch was made, technology had moved on from bumper automatics to full rotor automatics which were much more efficient, the calibre in my watch being a nicely decorated ETA cal. 2472…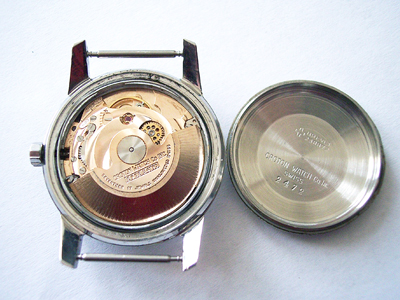 On closer investigation there was nothing wrong with the watch apart from dried up oil so it was an easy fix this time. Here's the watch after a movement service, a new crystal and a clean up for the case, dial and hands…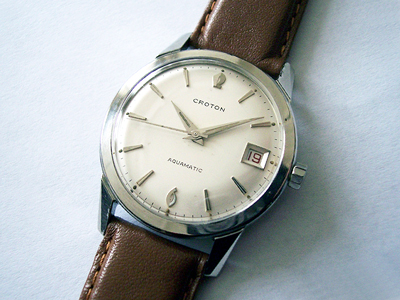 Incidentally, the Croton Watch Company is still in business, producing both quartz and automatic watches. The Aquamatic model lives on too, although now in the form of a quartz diver. You can see all the Croton models on their website here.
Rich.