Paul Breguette Automatic (A. Schild Cal. 1382N)…
Another new name on the blog, this time a Paul Breguette dress watch from the 1950's…
(Click pictures to enlarge)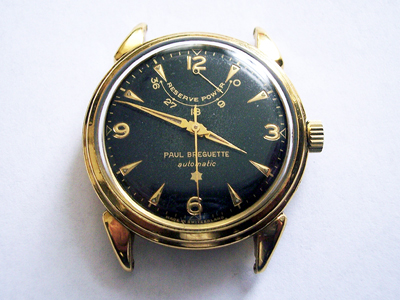 The brand name Paul Breguette was created in 1935 by the Swiss watch company Ebel when they entered the North American market. As well as marketing dress watches they also produced more complicated watches featuring well respected calibres. Alongside Valjoux powered chronographs, they also offered alarm watches like this  'Reveille' model based on the Vulcain cal. 120  (found in the popular Vulcain Cricket watches)…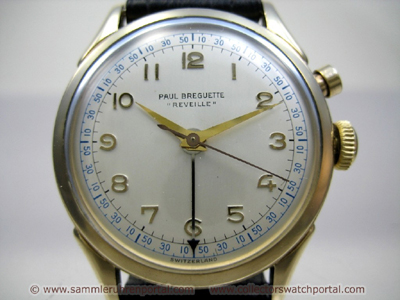 … and perpetual calendars watches like this one based on the A. Schild cal. 1315…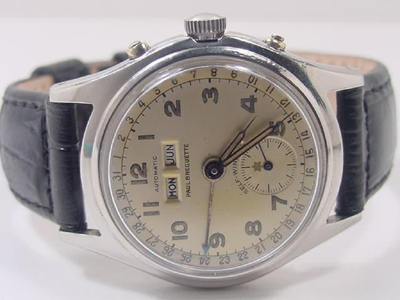 It's not clear exactly when the Paul Breguette brand name disappeared, but as Ebel watches are currently available across America, they probably retired the brand when they started using their own name.
As you may have noticed in the first picture, the watch in this post has a power reserve indicator. The calibre inside is a 17 jewel automatic, the A. Schild cal. 1382N, shown below with the mainspring barrel removed so you can see the power reserve mechanism…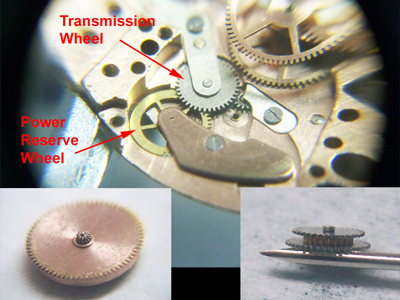 Although it doesn't look like much, at it's heart is a very clever transmission wheel (inset right).  As the wheel sits in the main picture above, the upper part of the wheel meshes with the mainspring barrel, the smaller inner part connects to the power reserve indicator wheel  (the axle of which protrudes through the main plate and onto the dial) and the lower gear is connected to the barrel arbor.
On the underside of the mainspring barrel are two additional gears which drive the indicator;  one mounted to the barrel itself and the other on the end of the barrel arbor (inset left). When the watch is wound, either manually or by the automatic winding mechanism, the barrel arbor turns clockwise, taking the power reserve wheel with it, increasing the "Reserve Power" reading on the dial.
In contrast, while ever the watch is running, the mainspring will be unwinding and moving the power reserve indicator back towards zero. Whether the indicator is rising or falling at any given moment depends on the activity level of the wearer.
The transmission wheel has another trick up its sleeve. If the power reserve indicator reaches it's maximum (ie, the watch is fully wound), then ball bearings sandwiched between the gears in the transmission wheel act as a friction clutch allowing the barrel arbor keep turning, and protecting the power reserve mechanism.
Although there were no problems with the power reserve indicator when the watch arrived, parts of the automatic winding mechanism, along with a few other crucial parts, were showing their age after 50+ years of service and needed to be replaced.
After locating a donor movement to provide the parts needed, the problems were quickly solved. Here's the watch serviced and back in action…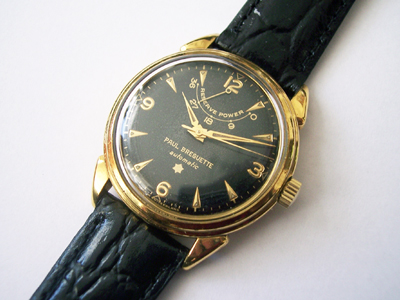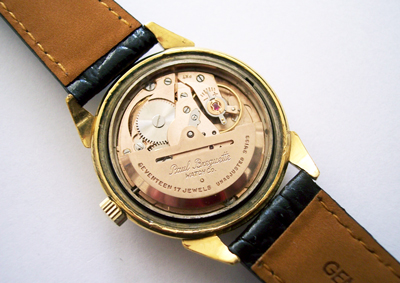 Rich.
** Many thanks to Frans van der Tak for letting me feature his watch on the blog. **