Seiko 6138-0040 (Bullhead Chronograph)…
I should really call this post, 'a tale of two Bullheads' as I picked up two of these watches in the same deal. The sellers pictures were a little dodgy and didn't include any close ups or movement shots so this one was a bit of a gamble…
(Click pictures to enlarge)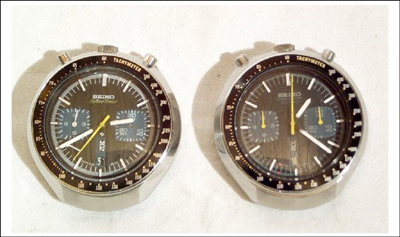 Thankfully on arrival, I was pleasantly surprised by their cosmetic condition; clean glasses, good bezel inserts, the right case backs, and cases in very nice condition. On the minus side, there was no sign of life from either movement, and neither of them would reset properly.
On closer inspection, though the movements were in decent condition, all the pusher springs and gaskets were missing, and it was easy to see that all the hands had been repainted and so would need to be replaced. So all in all, quite a bit of effort would be needed to bring these two back to their best.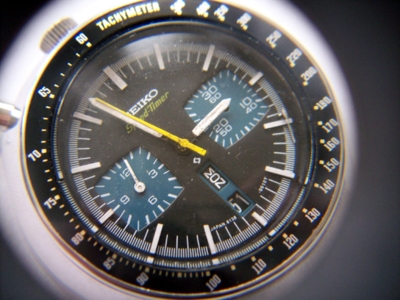 As the Bullhead is one of Seiko's most popular vintage models, it is now possible to buy aftermarket versions of many of the cosmetic items; hands, bezel inserts, and also some of the casing parts, crowns, pushers and stems for example. In previous years the quality of aftermarket parts was always 'hit and miss' but things seem to have improved over the years and they now offer a convenient alternative to trying to source genuine Seiko parts, which as you can imagine after 30+ years, are in pretty short supply.
The reset mechanism for both the Seiko 6138/9 chronographs can be a tricky thing to fix and while the service manual provided by Seiko gives practical hints on how to adjust it, when you factor in 30 years of wear on the components it can be a time consuming thing to get right. That turned out to be the case here with one movement being easier to fix than the other.
So, with work still ongoing on the second movement, here's how the first watch turned out…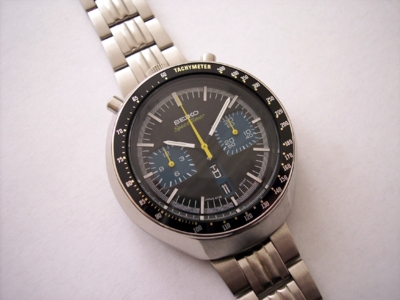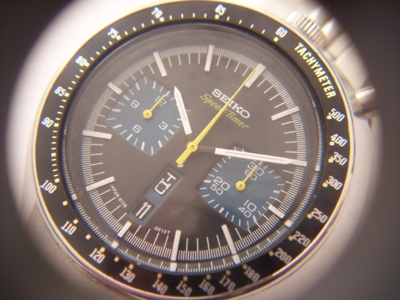 I can see why these Bullheads are still popular, especially in these 'big watch' times… it's one serious chunk of steel!
Check back soon for 'part 2' of this post if you would like to see how the second watch turns out.
Rich.