Seiko 6138-8020…
In non-running condition and with a few cosmetic issues it's safe to say this vintage chronograph needed some attention…
(Click pictures to enlarge)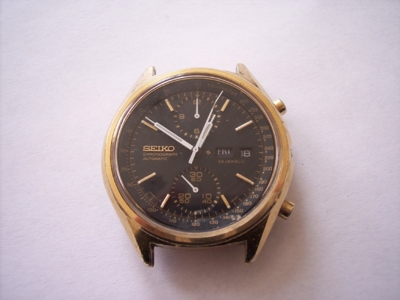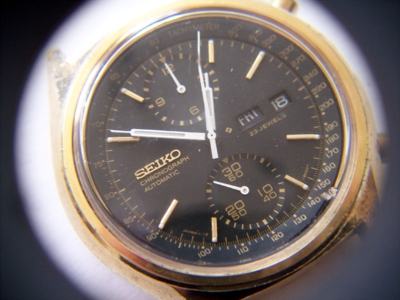 On closer inspection the movement had its fair share of issues; the hairspring was damaged, a jewel was cracked and one of the pivots had been snapped off the third wheel. Luckily many of the parts in the 6138 chronograph are the same as it's 6139 stable mate, so all the parts needed to get the movement back up and running came from a single donor 6139 movement.
On to the cosmetic issues. The watch arrived missing its crown and stem and while replacement stems can be found quite easily, genuine Seiko crowns are harder to come by, especially the gold plated ones. Thankfully, I managed to find one after making just a few enquiries.
I was fully expecting the crown and case to be different colours. After 35 years of wear and weather I would have expected the case to have faded a little, but no, when the crown arrived it was a perfect match.
All that was left to do then was straighten the sweep second hand and fit a new crystal. Here is the watch all finished up. I'm not usually a fan of gold watches but I like this one, the white hands against a black dial make for fantastic readability…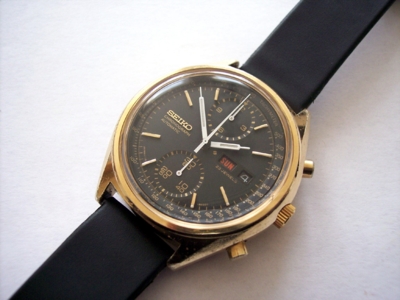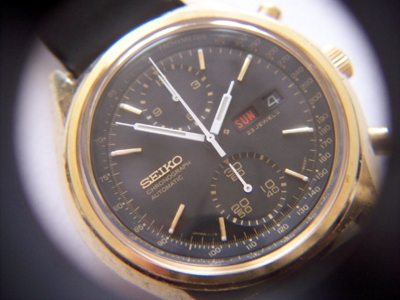 The eagle-eyed among you may have spotted that the dial has '23 Jewels' written on it which makes it rarer than the regular model, as inside is the 23 jewel version of the calibre found only in a handful of cal. 6138 chronographs. (The vast majority were fitted with the standard 21 jewel version).
Rich.
** Many thanks to Peter Bijen for letting me feature his watch on the blog **