Seiko 5740-8000 (Lord Marvel 36000)…
This Seiko Lord Marvel 36000 is the first red dialled watch to feature on the blog and if I think about it now I can't recall working on more than two or three watches with red dials. I don't know why they aren't more popular as I think this watch looks great!
(Click pictures to enlarge)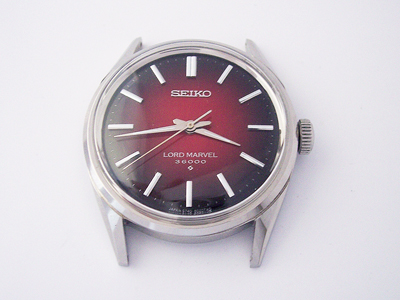 The Lord Marvel 36000 is quite small by todays standards (35mm) but if you can live with that then there's a lot to like here. The case lines are sharp and the overall design is crisp with the simple hour batons, dauphine hands and an unfussy dial script.
However, under the hood is where the real action is as inside is Seiko's 23 jewel, manually wound, cal. 5740C.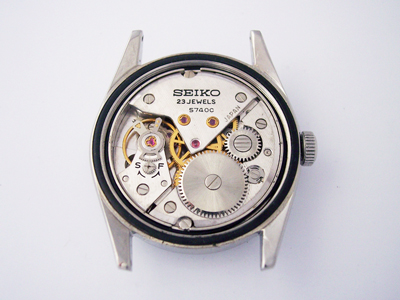 As any Seiko enthusiast will know, the 4xxx and 5xxx series calibres are some of the best calibres that Seiko produced and can be found in the majority of the vintage Grand, King and Lord Matic models, watches well worth seeking out.
The cal. 5740C however is quite significant as it marked Seiko's entry into the high-beat arena and is said to have been the "proving ground" for the cal. 4420 – the high-beat calibre used in subsequent chronometer rated, Grand and King Seiko models.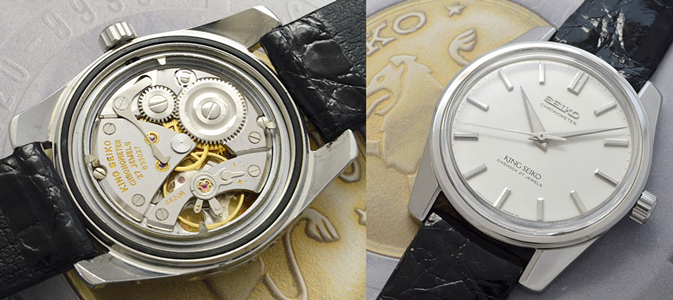 In the late 1960's and early 1970's in an attempt to increase the accuracy of mechanical movements a small number of manufacturers, 12 to be precise, produced calibres with a beat rate of 36,000 beats per hour (10 beats per second), which became known as "high-beat" (or "hi-beat") calibres.
Although many manufacturers had already started producing calibres with either 19,800 or 21,600 bph, the industry standard beat rate at the time was still 18,000 bph for watch calibres, so when high-beat calibres doubled the beat rate they were seen by many as the pinnacle of mechanical watchmaking used in mass production. Sadly however the quartz revolution curbed any further development in that area.
Rather than get side-tracked into the technical merits of high-beat calibres, I'll point any interested readers to this post about the excellent Longines Ultra-Chron which I wrote a few years ago. I've written about several other high beat watches on blog in the past too including the Zenith El Primero A385, Favre-Leuba Sea Raider 36000 and the Zodiac Astrographic SST to name a few.
Getting back to the Lord Marvel 36000, it actually started life with more 'low tech' beginnings. Although the first Lord Marvel models were released in 1958, the first one with a cal. 5740 appeared in 1964 with the "low beat" version of the calibre inside, the cal. 5740A, which ran at 18,000 bph.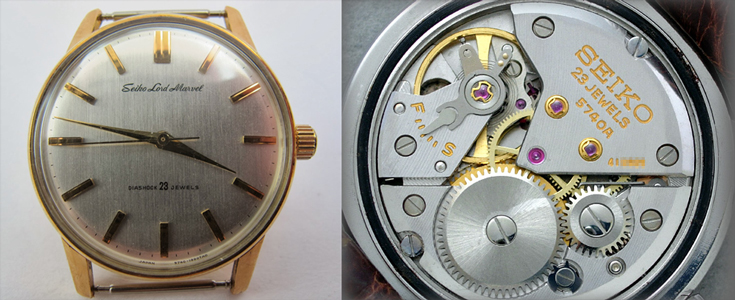 A revised version of the calibre, the 5740B, was introduced in 1966 increasing the beat rate to 19,800, and the final version of the calibre, the 5740C, was released in 1967 and featured exclusively in the 5740-8000 model seen here.
This third and last generation of the Lord Marvel 36000 was produced from 1967-1978 in both stainless steel and gold plated cases and with a range of dial colours. Later versions were also produced with linen patterned dials and arabic dial markers.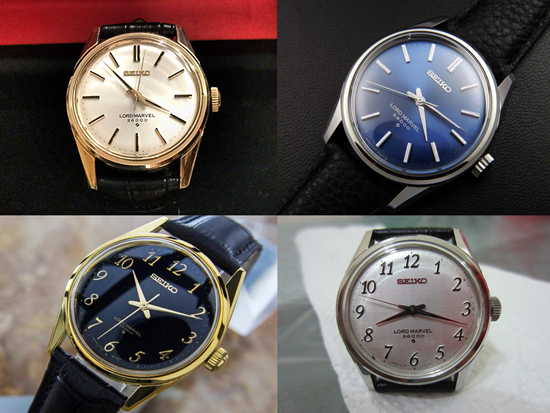 If you try and track down a Lord Marvel 36000 it's worth noting that the earliest models had the seahorse embossed caseback found on some early vintage Seikos.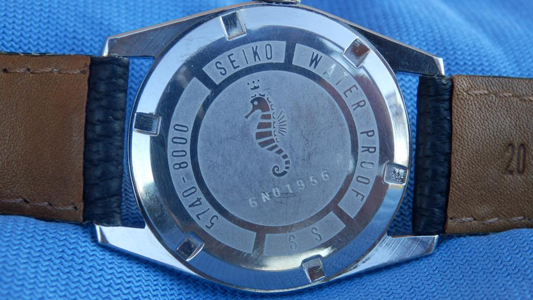 Finding one in good condition may be tricky however as these embossed casebacks wore away quickly when worn, so many are now either severely faded or polished smooth.
As the watch in this post was already in great condition, it needed no more than a routine movement service this time and a case clean to bring it back up to scratch so here it is all finished up. Perhaps I'm just smitten, but what's not to like here? 😉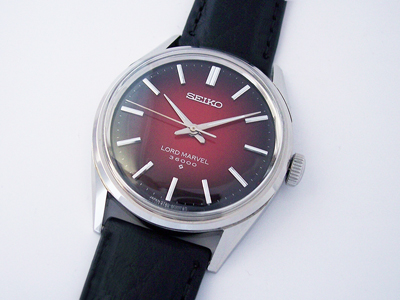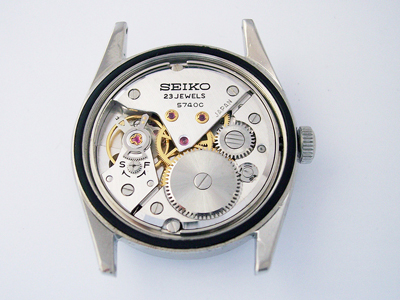 Rich.
** Many thanks to Peter Owen for letting me feature his watch on the blog. **