Altanus Genève Squale (ETA Cal. 2872)…
This vintage diver was made by Altanus Genève, another new brand on the blog.
(Click pictures to enlarge)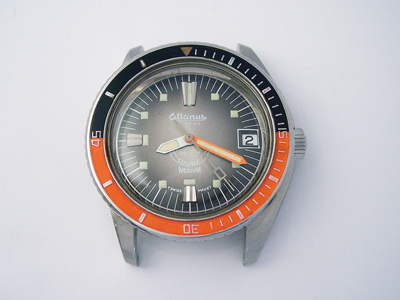 Though their headquarters are now in Marcianise, Italy, Altanus were founded in Geneva Switzerland in 1914 and they still have a manufacturing base there. For a company with almost a 100 year history, there is very little information to be found about them, it's not even clear if they have been manufacturing all that time. Their output has however, covered many of the major categories, from quartz dress watches right through to Valjoux powered mechanical chronographs.
One of the more notable events in their history occurred in 2010, when as a result of a 4 year development programme, Altanus unveiled the world's first paper wristwatch – the "Patch".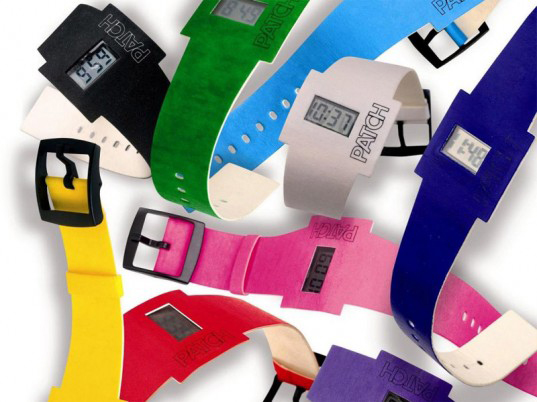 Weighing just 11 grams, the watch is made from a single strip of bio-degradable paper, with a specially developed coating making them tear-resistant and waterproof. When first launched, the Patch was available in 10 vibrant colours, but the range has since been expanded to over 30, let's call them 'eye-catching' designs.
Getting back to the matter in hand, what makes the watch in this post particularly interesting is the case; an asymmetric, stainless steel case made by Squale, a company specialising in professional diving watches. Founded in 1946 as "von Büren S.A. / Montres", the company supplied cases to a wide range of manufacturers both large and small. The Squale 'shark' logo quickly became their trademark, and a recognisable sign of quality. Buoyed by the immediate sales success of other brands using their cases, Squale started to produce watches under their own brand name from the 1950's onwards, and went on to supply watches to the Italian Air Force and Navy Diving Corps in later years.
Turning the watch over, the asymmetric profile of the case is more obvious and the caseback markings are common to all Squale cases; the Squale logo, details on the case construction, the depth rating (30 Atmos = 300 metres) and Mod. Depose, short for Modèle Déposé which is French for 'registered design'.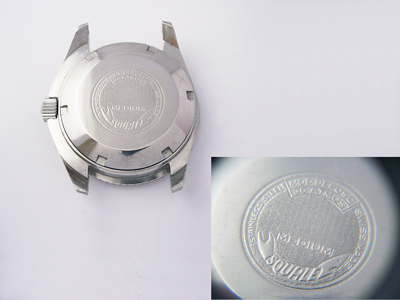 Here are a few more examples of Squale's vintage watch cases, all of which featured screw-down crowns and for the 1000 metre rated cases, a high dome mineral crystal to withstand the extreme pressures.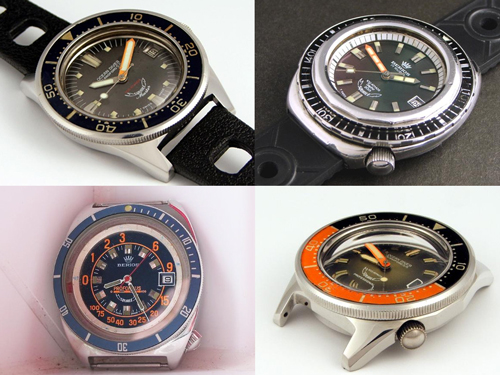 It's hard to date the watch in this post exactly, but based on the movement inside, an ETA cal. 2872, I'd say it dates to somewhere around 1980. The watch arrived in good running condition but needed a service, and from a cosmetic perspective it was in good shape too, except that the lume was missing from the sweep second hand, and there was a lume smudge on the dial which had to be carefully removed.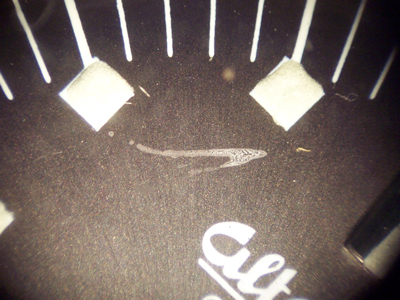 There were no hidden surprises on this one, so with the movement serviced and the cosmetic issues tidied up it was soon back in one piece.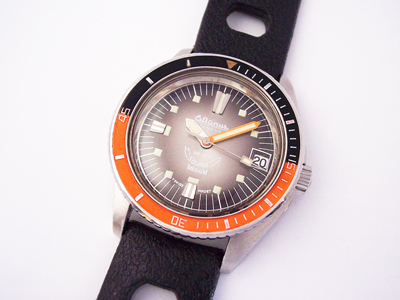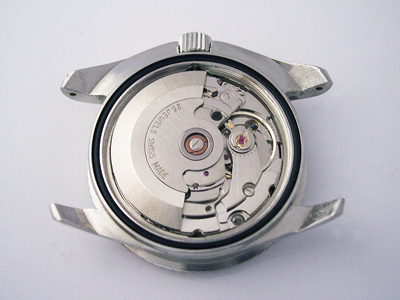 You may have noticed that it says 'Medium' on both the case and dial, and it probably isn't obvious from the pictures but at 36mm, this is a mid-sized watch. To give you an idea of its size, here's the watch next to a full sized diver that will be familiar to most watch enthusiasts, the 44mm Seiko 6309-7040.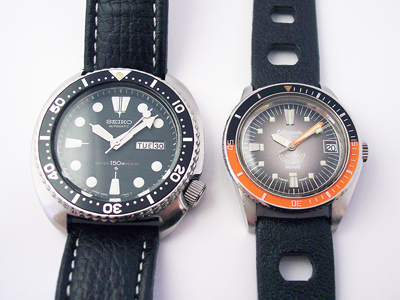 Rich.
** Many thanks to Daniel Spiegel for letting me feature his watch on the blog. **