Aquastar 60 (A. Schild Cal. 1701)…
I've already covered quite a few Aquastars on the blog, this time it's one of the lesser known models, the Aquastar '60′.
(Click pictures to enlarge)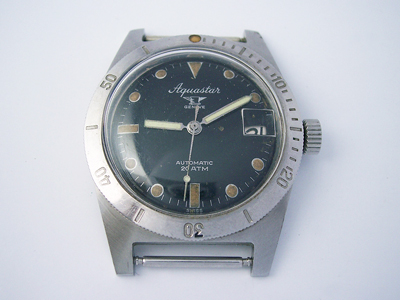 The watch is similar in style to another model from the same period, the '63', the major difference being that rather than an external bezel, the 63 has an internal rather which is rotated using the crown. Both watches have the same depth rating, 20 ATM / 200 meters.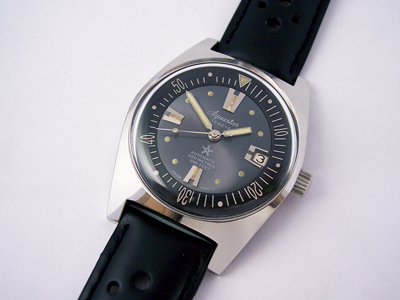 I wrote about the Aquastar 63 pictured above last year on the blog, if you would like to read that post, you can do so here.
Here is a picture of both watches together in a vintage Aquastar catalogue.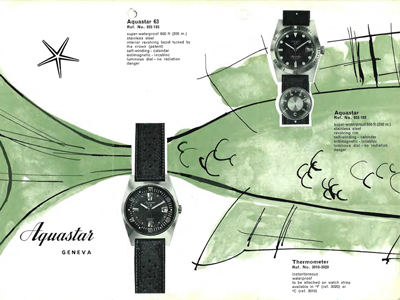 Like the majority of Aquastar divers, opening the caseback revealed a calibre from the A. Schild stable, this time a 17 jewel cal. 1701.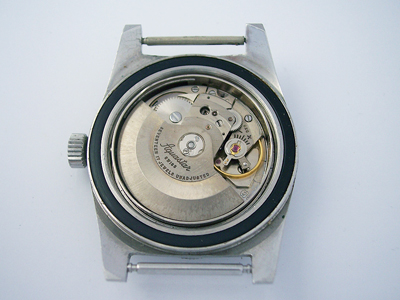 The movement was running which is always a good start, but as you can see in the picture above it was in a pretty oily state.
Cosmetically the watch was still in good condition, but the sharp eyed among you will have spotted that the bezel markings had lost the majority of their paint over the years, so would need to be refreshed as part of the restoration.
You will also have noticed that the lume in the hands is noticeably different in colour to the lume on the dial. I immediately assumed that the hands had been relumed at some point, but on closer inspection that didn't appear to be the case as they showed all the traits of genuine Aquastar lume – wafer thin and liable to crack at the slightest provocation!
It was only while writing this post that I realised in the catalogue shot above, the watch has completely different hands. The hands on that watch, are still lumed but much thinner, and this picture in a different Aquastar catalogue adds to the confusion as it shows different hands again, this time they appear to simple stick hands without lume.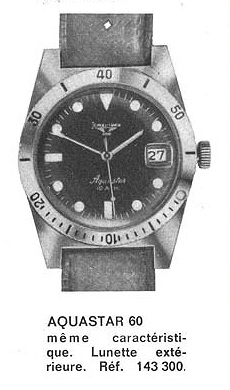 Being quite a rare model, I can't find any more information online, so the jury is still out as to which hands are correct. (If anyone has more information on this model, it would be good to hear from you). My guess would be that the watch in this post has been fitted with hands from a 63 model at some time.
With the movement serviced, the case was cleaned, the bezel markings repainted, and the crystal polished before the watch was reassembled. Here is the watch all cleaned up and fitted with a tropic strap, just as it would have been originally.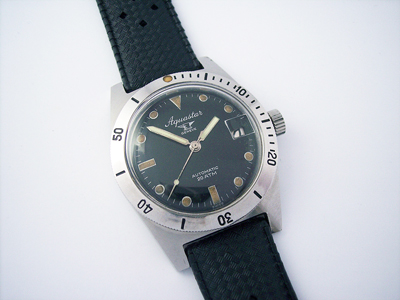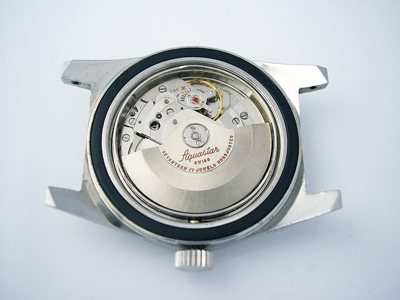 Rich.
** Many thanks to Mark Tucker for letting me feature his watch on the blog. Mark inherited this watch from his father in-law, Creighton Leonard, who passed away recently, so this post is dedicated to him. **