Hamilton W10 (Hamilton Cal. 649)…
I wrote about a Hamilton military watch earlier this year, the 6B, and here's another one – it does actually say "Hamilton" somewhere under there I promise!
(Click pictures to enlarge)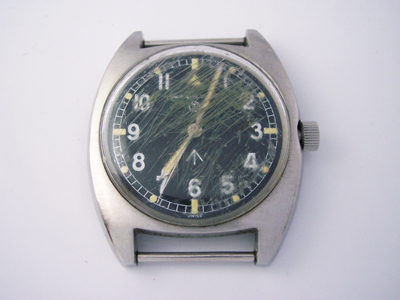 Hamilton produced wristwatches for the British military between 1965 and 1976, and this particular model was issued to military personnel from 1973 until 1976. From 1976 onwards, manufacturing transferred from Hamilton to the Cabot Watch Company (CWC) who produced an equivalent CWC branded version of the watch. That model continued to be issued until 1980 when it was replaced by a quartz version, the G10.
Turning the watch over, the military markings will now be familiar to regular readers; the '6BB' denotes that this watch was issued to a member of the RAF and the next 13 digits are the NSN (NATO Stock Number), followed underneath by the Broad Arrow symbol, and the the issue number and year at the bottom.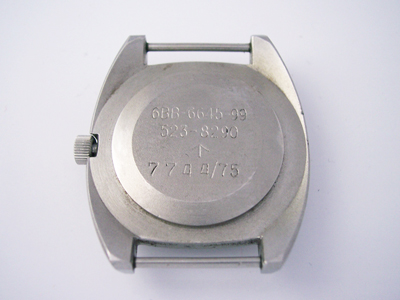 This model is referred to as the 'Hamilton W10' as the watch was also issued to Army personnel, and in much greater numbers than the RAF; over 30,000 for the Army, compared to around 7,000 for the RAF. Any watch issued to Army personnel was marked 'W10' rather than '6BB' as you can see here.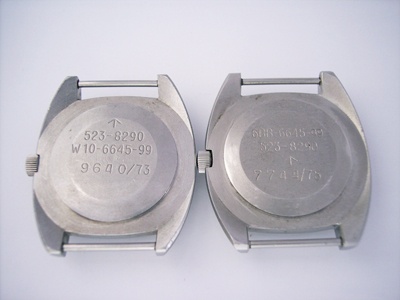 There have been quite a few watches on the blog lately housed in one piece cases, and this is another example. To remove the watch from the case, the first step is to split the two part stem, after which the crystal wrench comes into play…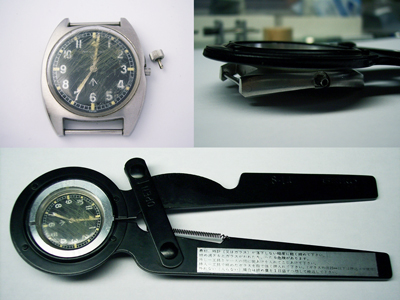 A suitable aluminium ring is chosen from the set provided that is just larger than the diameter of the crystal. The wrench is then placed over the ring and squeezed, compressing the crystal from all directions until it is smaller than the inner diameter of the case. The crystal can then be lifted out, and the watch can now be removed from the case.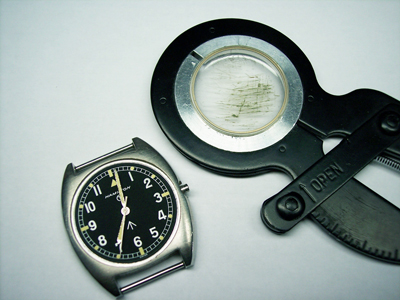 The dial and hands were still in decent order with all their original lume still intact. The only negative was some tarnish on the surface of the hands, which seems to be a common problem with these watches.
The movement in this watch is a Hamilton cal. 649; a 17 jewel, hand wound movement with a hacking function for accurate time setting. These calibres were actually made by ETA and numbered cal. 2750, but Hamilton removed the ETA branding from under the balance wheel and engraved the train bridge with their own branding and calibre number.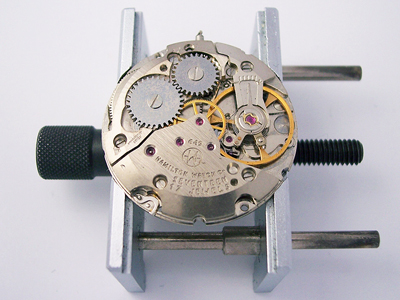 The movement was in good condition and just needed a routine service, so that was straight forward, but as you no doubt noticed in the first picture, the crystal was heavily scratched – I can only hazard a guess as to how it ended up like that!
Thankfully it wasn't cracked, so all the scratches could be polished out before final re-assembled.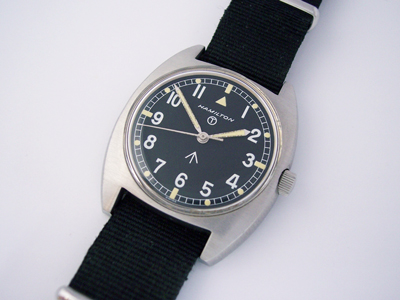 Rich.
** Many thanks to Lee Curtis for letting me feature his watch on the blog. **