Girard-Perregaux Olimpico (Valjoux Cal. 726)…
Here's a great looking chronograph well worthy of some TLC, a Girard-Perregaux Olimpico.
(Click pictures to enlarge)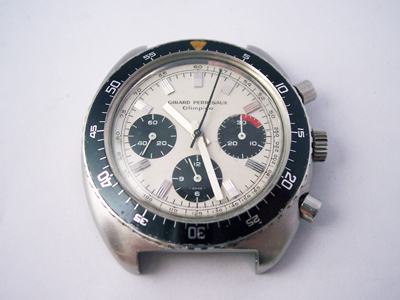 Girard-Perregeaux introduced the Olimpico range to commemorate the Olympic games (Olimpico means Olympics in Spanish/Italian), adding new models to the range every 4 years. Based on the case style and the calibre inside, I would date the watch in this post to either 1972 or 1976.
Exactly when the first Olimpico model appeared is open to speculation, but judging by the style of the early models in this Olimpico group shot, I would guess some time in the late 1950's?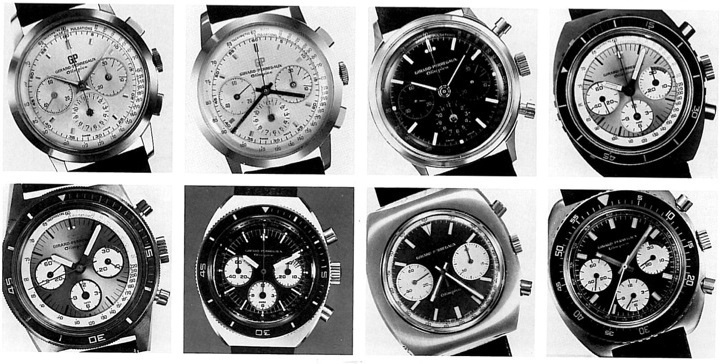 The majority of the vintage models were built around Valjoux calibres, with the exception of the 1968 offerings which were powered by an Excelsior Park Cal. 40. Here's one of them;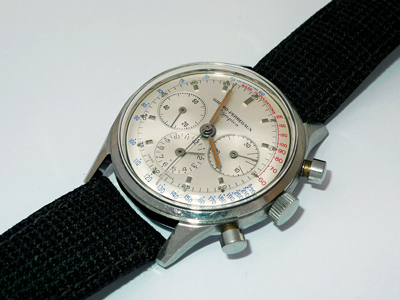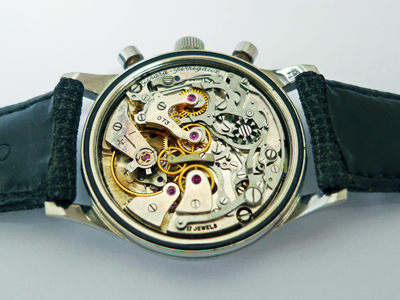 Curiously there were no models created for the 1980 and '84 Olympics, but the model was back in the line-up for the 1988, powered by the ubiquitous Valjoux Cal. 7750. Subsequent models were added for the 1992 and '96 Olympics, the latter being one of the Laureato chronographs, and the first to feature an in-house calibre, the cal. 3170.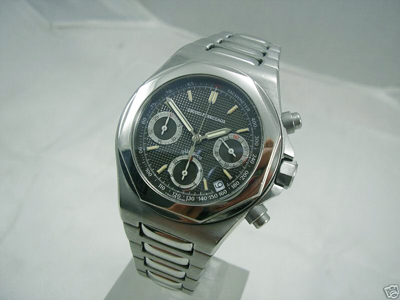 Unfortunately, the 1996 model marked the end of the line for the Olimpico range, as the International Olympic Committee took a dim view of any unlicenced use of the term 'Olympic' …and no doubt demanded a hefty fee for any further use.
The watch in this post arrived in running condition, but the second and 12 hour registers on the chronograph weren't resetting properly. I was hopeful that a movement service would fix the problems.
Opening the caseback revealed a Valjoux Cal. 726 in excellent condition, and sure enough, after a service, the movement was back up and running with all the chronograph functions working properly again.
Before re-assembly, the case was cleaned, the top of the case re-brushed, and the crystal polished to finish the job.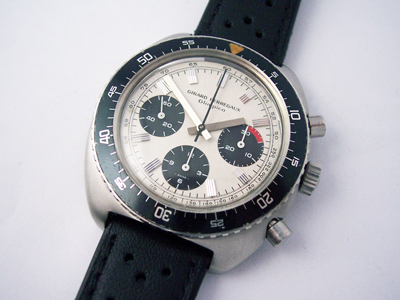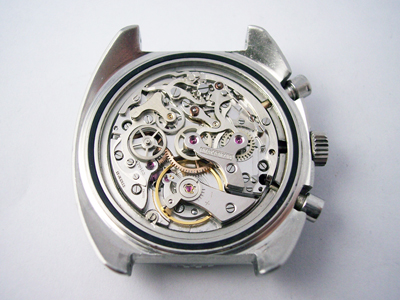 You can read more about Girard-Perregaux, and see their current models here.
Rich.
** Many thanks to Tony Willer for letting me feature his watch on the blog. **