Favre-Leuba Deep Blue (FL Cal. 1165)…
Another vintage diver on the blog, this time a 'Deep Blue' from Favre-Leuba.
(Click pictures to enlarge)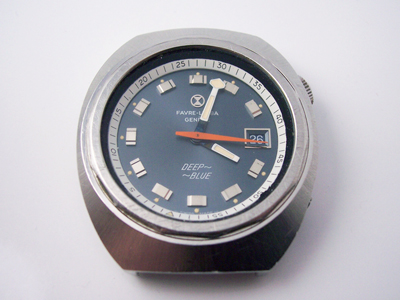 Favre-Leuba created the 'Deep Blue' range of diver's watches during the late 1960's and early 1970's, a rich seam for "visually striking" watches. Just like this Breitling Chrono-Matic from the same period, some of the models in Favre-Leuba's Deep Blue range were certainly eye-catching, and though the subject of this post is one of the more sober models, get ready with your sun glasses as here are a few of the others…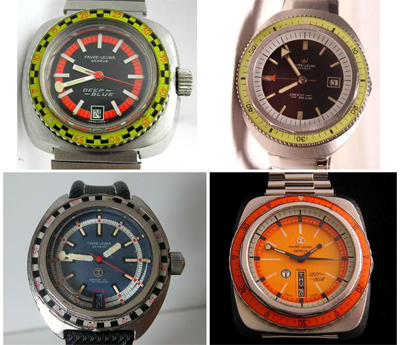 The watch arrived in decent condition, though the stem was broken and the inner bezel (operated by the upper crown) wouldn't turn. Opening the caseback revealed a Favre-Leuba cal. 1165 in very good condition.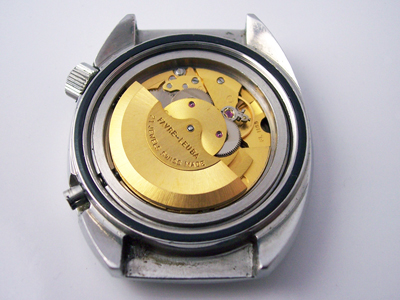 The calibre FL1165 is the date only version of the FL1164 which I wrote about in this post concerning a Sea Raider model from the same period. Both of these calibres were based on the A.Schild Cal. 1687, the escapement being modified to make it "high-beat" (running at 36,000 bph rather than the standard 21,600 bph), and an automatic winding mechanism was also added – the product of a joint development between Zodiac, Doxa, Girard-Perregaux, Eberhard and Favre-Leuba.
Removing the bezel ring and crystal from the watch quickly revealed the source of the problem with the inner bezel – our old friend, emulsified gasket… always an unwelcome visitor!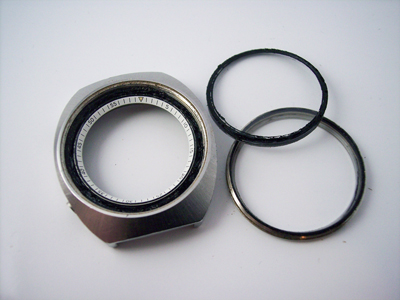 The melted gasket was literally sticking the inner bezel to the crystal, and had to be very carefully removed to avoid it smearing all over the white inner bezel. I couldn't risk using any kind of solvent for fear of damaging the print on the inner bezel, so it had to be wiped off a little at a time.
The other problem was that the stem was broken. It had broken off flush with the threads of the crown and there was nothing to grip to try and remove the old stem, so I had no alternative but to fit a new crown and stem. I couldn't source a Favre-Leuba marked crown, so a generic screwdown crown of the same size and style had to be used instead.
With the movement serviced and the problems resolved, the case was cleaned and a new crystal gasket fitted before the watch was rebuilt. Here is the result.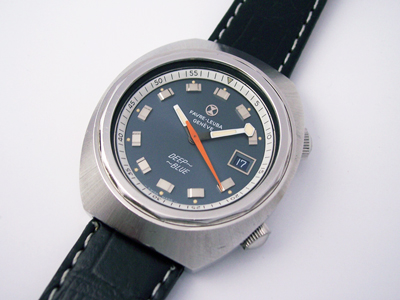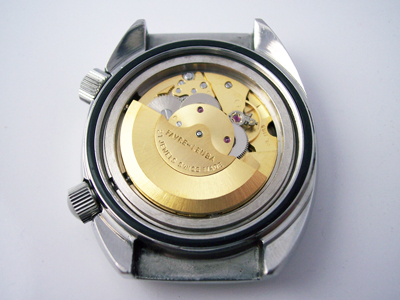 Rich.
** Many thanks to Kevin van der Zouwen of the watch collectors trade and information site Some Time Ago for letting me feature his watch on the blog. **