Nivada Grenchen Depthmaster 1000 (ETA Cal. 2472)…
Kicking off the New Year is this Depthmaster 1000 from Nivada Grenchen.
(Click pictures to enlarge)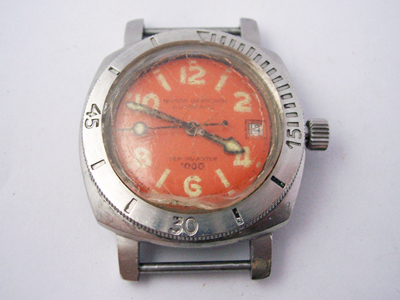 Still in the possession of the original owner who received the watch as a gift from his wife in 1975, the watch had certainly seen some action over the years. After struggling to find someone local to take on the restoration, the watch found its way to me.
As well as a movement service, quite a bit of cosmetic work would be needed on this one; the crystal was heavily crazed and had a large chunk missing out of it, the case had taken its fair share of knocks, and the bezel markings had lost most of their paint.
Opening the caseback revealed an ETA Cal. 2472 in reasonable condition.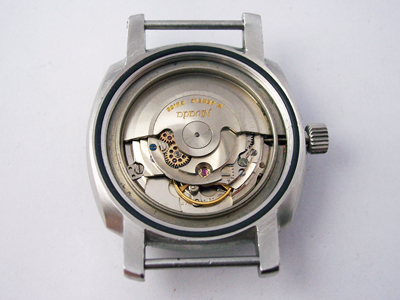 With the watch uncased, it was clear that there was more cosmetic work to be done. While the lume on the dial was in reasonable condition, the hands were in poor shape, with rotten lume and missing paint.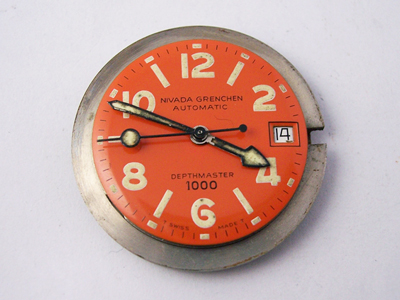 When new, this watch was water resistant to a depth of 1000m, which was quite a big deal in the 1970's, and still exceeds the depth rating of the majority of watches made today.
With deep water watches, the weakest part is the crystal, which can fracture under pressure. To minimise the chance of this happening, Nivada fitted this watch with an acrylic crystal 3.4mm thick (regular acrylic watch crystals are around 1 mm thick), and to give it extra security, rather than being pressed into the case like a regular tension ring crystal, in this watch the crystal is held place by a metal ring screwed in from the inside.
There must be a specific tool for removing the securing ring, but I don't have one (and I doubt I'll ever see one), so two bits for the Bergeon 5700Z case opener were modified to provide a solution.
The bits were filed down to make two 'prongs' to fit exactly into the slots on the inner ring (see inset). With the watch case securely mounted in the opener, the ring could be unscrewed easily.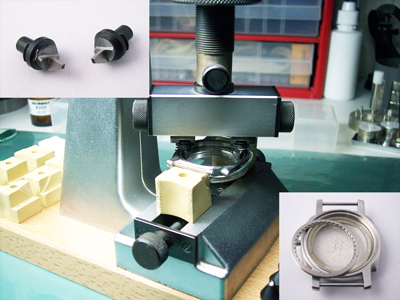 It came as no surprise that an original crystal couldn't be sourced for this watch, so a thick divers crystal of the same diameter was modified to match the profile of the original and to create a lip on the outer edge. The crystal was secured in place using the case opener once again to tighten the ring.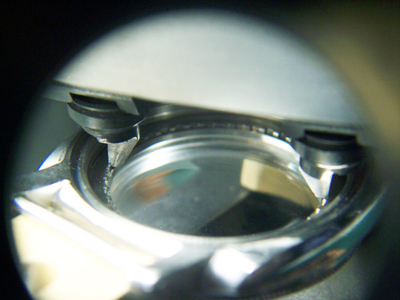 With the crystal successfully replaced, the rest of the work was completed. After a little work on the case, the hands and bezel were re-painted and re-lumed, and the movement serviced. Here is the result.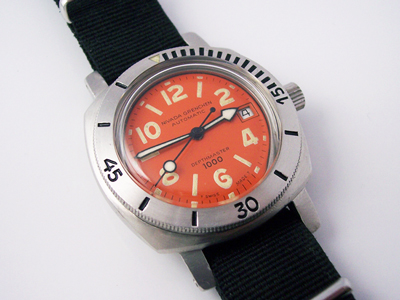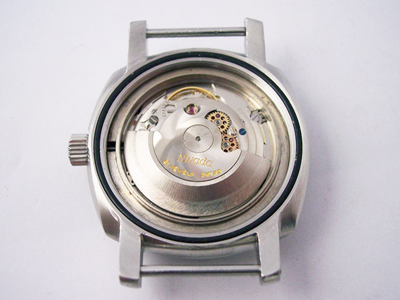 Rich.
** Many thanks to Ian Kemp for letting me feature his watch on the blog. **