Breitling Chrono-Matic Ref. 2110-15 (Breitling Cal. 15)…
Here's a watch that stands out from the crowd, an early 1970's Breitling Chrono-Matic.
(Click pictures to enlarge)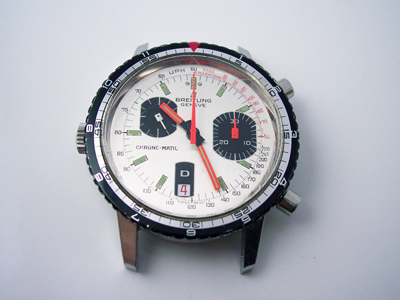 For a brief period in the 1970's the design department at Breitling "let it all hang out" and came up some visually striking models in the Chrono-Matic and Datora ranges. You can see some of the Datora models in this post, and here are a few examples of the Chrono-Matic models – none of which could be described as shrinking violets…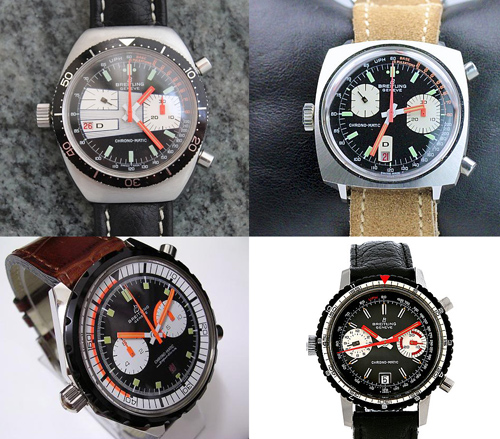 .. but the absolute winner in terms of "out there" styling has to be this bullhead model with light blue dial and hands, and a sideways date, wow!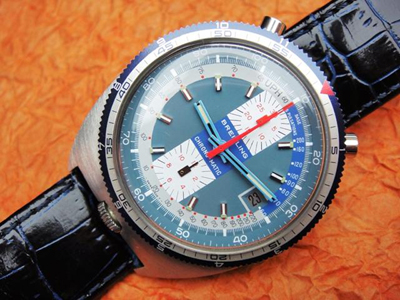 The model name "Chrono-Matic" is a reference to the calibre inside the watch, one of the first automatic chronograph calibres developed by Heuer-Leonidas, Breitling, Hamilton-Buren, and Dubois Dépraz.
Production started in March 1969 with the Cal. 11, which was modified shortly afterwards to become the Cal. 12, both models featuring a 12 hour chronograph. A GMT hand was subsequently added to produce the Cal. 14, and finally a simplified version of the calibre was developed, the Cal. 15, removing the 12 hour register from the chronograph, and fine adjustment for the regulator, in an effort to reduce production costs.
It would be easy to assume that all these calibres were manually wound, but with the chronograph module removed you can see that they have a micro-rotor winding mechanism inside.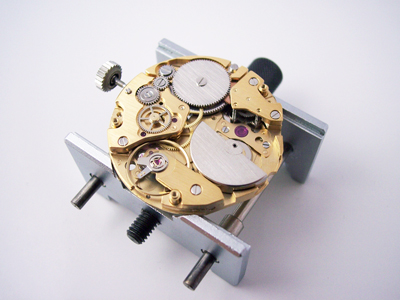 The starting point for the Chrono-Matic calibre was the Buren cal. 1281, and the plan was to add a chronograph module on top of the existing calibre. However, due to technical complications, the main plate for the calibre had to be rotated 180 degrees, which gives the resulting watches their distinctive 'crown on the left, pushers on the right' layout.
Opening the watch in this post revealed a Breitling Cal. 15 in good overall condition – no marred screw heads, or signs of clumsy handling in the past.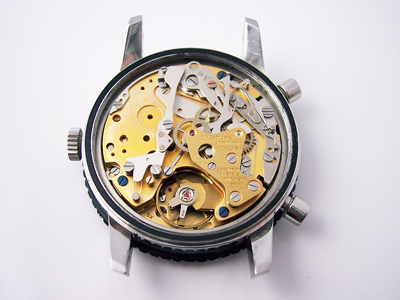 The watch arrived running, but with a thin film of oil over everything and some stiffness in the winding and time setting functions, most likely due to a lack of servicing.
Sure enough, after a full service the winding/setting problems disappeared, and with the oil removed, things were looking much better.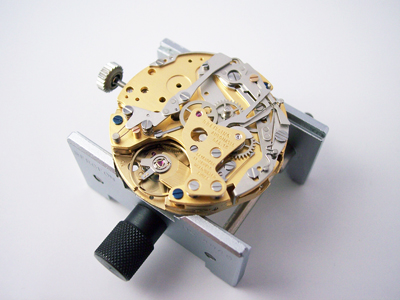 Before rebuilding the watch I took a picture of the dial side of the calibre. As this watch has an off-axis date (positioned at 31 minutes in this case), the printing of the numbers on the date ring all have to be angled so they all line up correctly in the date aperture on the dial. I was pleased to see that the date ring was still  in perfect condition as finding a replacement would have been very difficult these days.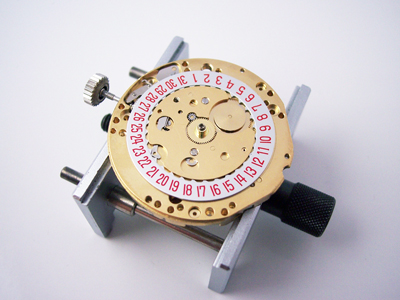 With the movement serviced there was little else to do aside from some case work and a polish for the crystal.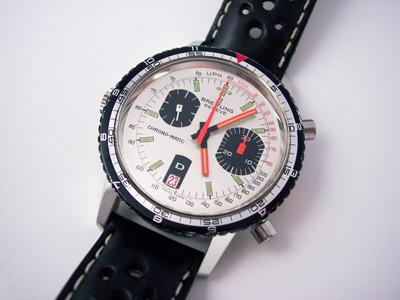 Rich.