Tissot Visodate (Tissot Cal. 782-1)…
Another Tissot Visodate, this one slightly younger than the last one, dating to the late 60's or early 70's and rather than an automatic movement, this one was fitted with a manually wound cal. 782-1…
(Click pictures to enlarge)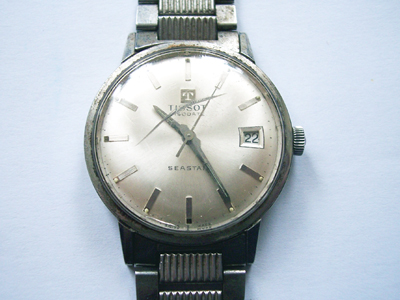 The problem with this watch was pretty easy to figure out as it would wind a little and then you would hear a 'buzzzzzzz' from inside and the watch would stop… all the hallmarks of a broken mainspring. In hand wound watches the spring is hooked onto the inside of the barrel wall and if too much force is applied to the crown when fully wound, the spring can break.
To prevent this from happening it's advisable to stop winding a manually wound watch as soon as you start to feel resistance, rather than winding it until it won't wind any more.
With a new mainspring fitted, the rest of the movement was brought up to scratch with a clean and oil…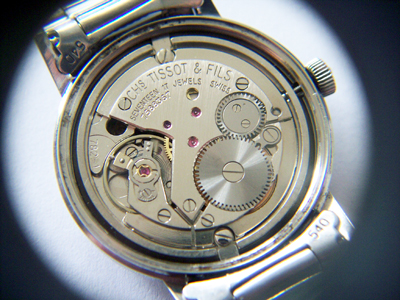 One other area letting this watch down was the hands which had been badly treated in the past and were so bent out of shape that they had been rubbing together. At some time in the past I bought a batch of vintage Tissot hands which as luck would have it were exactly the right size and length. Though they were a different shape, they suited the watch nicely.
After sorting out the hands, all that was left to do was fit a new crystal. Although it's not a visually exciting model, the watch has a great caseback and still has it's original crown and bracelet which is always a bonus…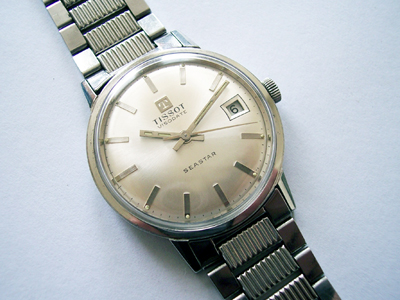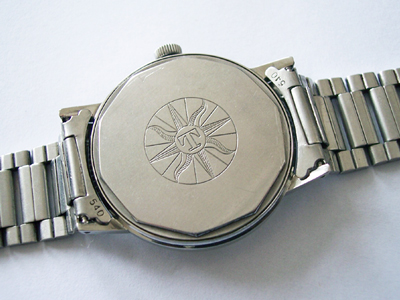 Rich.