Nivada Grenchen Taravana (ETA Cal. 2472)…
Another interesting model from Nivada Grenchen, this time a Taravana Diver from the 1970's.
(Click pictures to enlarge)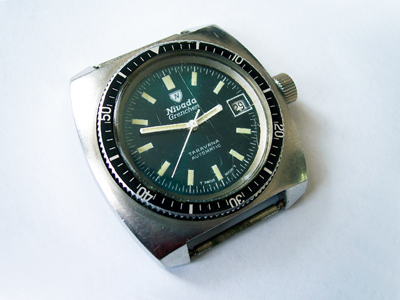 Though the watch was in generally good condition, as you can see above the crystal had a few stress cracks, so would have to be replaced.
Unlike most dive watches these days this watch has an acrylic rather than a mineral glass crystal. You wouldn't imagine that a regular acrylic crystal would be strong enough to resist the pressure of scuba diving, particularly as this watch is rated to a depth of 200m…. and you'd be right!
A much more substantial crystal is needed in this case, an armed diver crystal, which is around 3 times thicker than a regular acrylic crystal and made specifically for the job.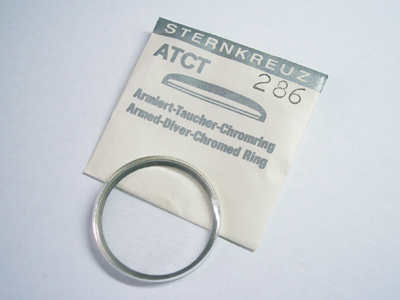 I'm really starting to appreciate Nivada Grenchen watches, from what I've seen they always used good quality movements, the one in this watch being no exception; a nicely decorated 21 jewel ETA cal. 2472 automatic calibre with a Nivada marked rotor.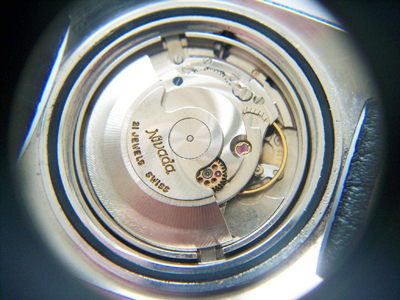 I'm sure the retro styling of this watch won't be to everyone's taste but it certainly has all attributes of a good diving watch; a rotating bezel, a screwdown crown and a rock solid case.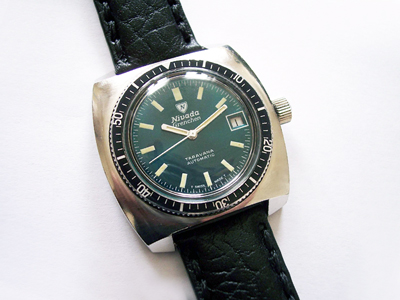 … and one of the funkiest casebacks I've seen in a while… great!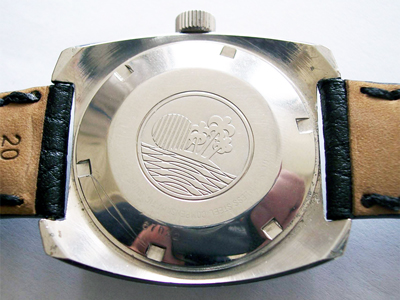 In case you were wondering… 'Taravana' is a Polynesian word meaning 'to fall crazily' and is used to describe a rare form of decompression sickness suffered by breath-hold divers in that region. The symptoms of Taravana are vertigo, nausea, lethargy, paralysis and death… yikes! Read more about it here.
Rich.