Seiko 4006-6011 (17J Bell-Matic)…
I was very surprised to be the only bidder on this, one of the more popular 17 jewel Bell-Matics…
(Click pictures to enlarge)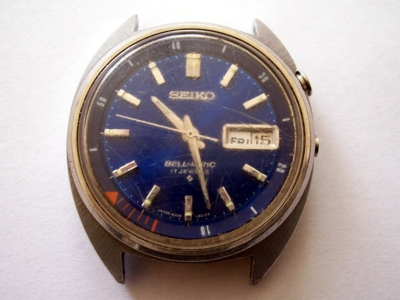 The watch didn't run, needed a new crystal and was missing it's stem and crown, but I think it must have slipped under the radar of my usual Bell-Matic competitors, so I was delighted to snap it up for a very reasonable opening price.
On arrival I was even more pleased as the dial and hands were near perfect, the case had no corrosion at all, and the movement was spotless… it even had a casing spring! The only down side was that one of the dial feet had been snapped off.
I've had quite a few Bell-Matics with broken dial feet now which is odd, as I rarely see it on other watches. The only thing I can think of that would cause it would be a very heavy knock, but then I'd expect to see other damage too, broken pivots or balance staff for example. Whatever the reason, with a dial in this condition it was certainly worth the extra effort involved in fixing it…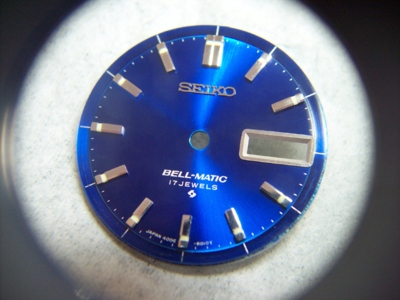 I've given up trying to figure out which Bell-Matic dials have a built in spacers as there seems to be no pattern to it at all, but luckily this dial was one of them so drilling out the old dial foot and making a new one was pretty straight forward. (I've posted about fixing dial feet before, click here if you missed it.)
With the dial repaired, I found a suitable crown and stem in the parts box, then a clean and oil for the movement and a new crystal finished the job. There's no doubt about it, Seiko make a great blue dial, everyone should have one…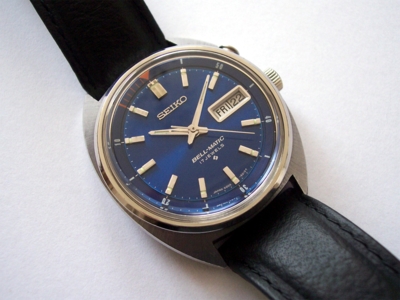 Rich.