Aquastar 63 (A. Schild Cal. 1713)…
Another Aquastar model on the blog, this one is known as the Aquastar 63.
(Click pictures to enlarge)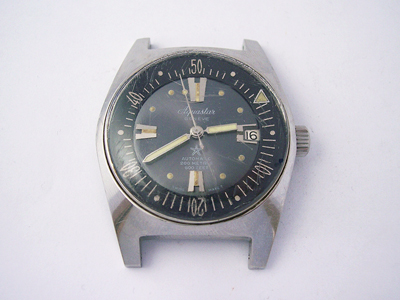 Compared to some of the other watches available from Aquastar, this is one of the smaller models, but still has the majority of features you would expect in a divers watch, a thick crystal, a rotating bezel and a decent water resistance (200 metres). The only missing element is a screw-down crown.
I don't really know why it's called the '63', perhaps it was introduced in 1963, but here is a picture of it labelled as such on a French advert from that period.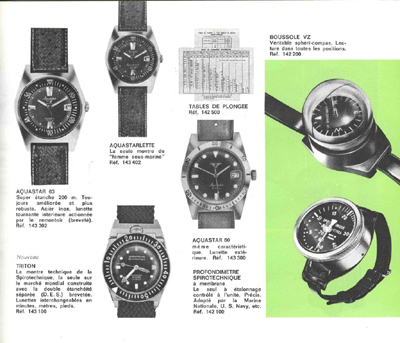 This model has an internal bezel which is rotated using the crown. Like some of the Seiko models I've written about in the past, the interface between the stem/crown and the bezel is a winding gear through which the stem passes. The stem has a second square section for the bezel winding gear adjacent to the threaded section so when the crown is pulled out to set the time, the bezel does not turn along with the hands (see inset below) .
Personally I find this arrangement curious. Wouldn't it have been better to have the inner bezel disabled when the crown is pressed in rather than pulled out? This would have prevented the inner bezel being moved accidentally, especially as there is no way of securing the crown.
Opening the watch revealed a nice looking A. Schild cal. 1713 movement which, though not running, had no signs of corrosion which is always a good start.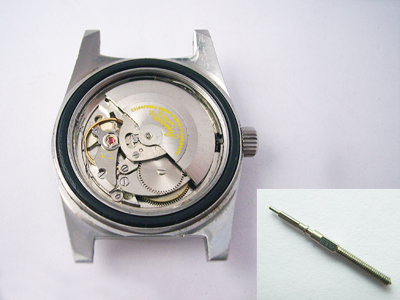 When I opened the watch I was puzzled by the presence of an unusual spring that had worked loose and was rattling around inside the case (see picture above, on the left). I've already restored a few of these watches and I've never seen that spring before.
It was only when I was re-casing the watch that I realised what it is for; maintaining pressure on the bezel winding gear to ensure that is slots back onto the square section on the stem. The spring must have been lost in all the watches that I'd restored in the past.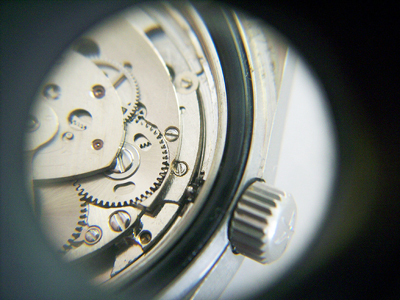 This particular watch is still in the possession of the original owner, who bought it in 1968. As the watch had been 'resting' for some time, all the movement needed was servicing, and after that, the case was cleaned and given a light buff, and a new crystal was fitted to finish the job.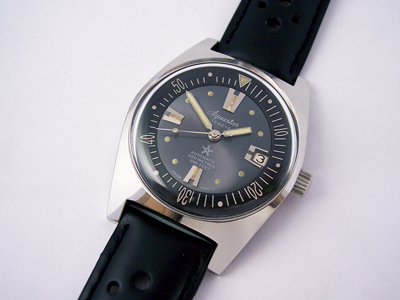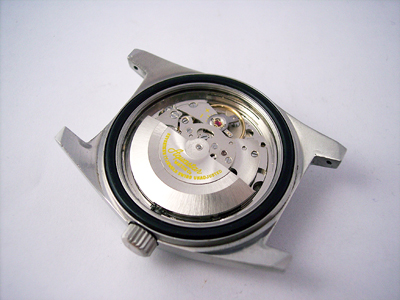 Rich.
** Many thanks to Allan Kelly for letting me feature his watch on the blog. **