Seiko 6119-6023…
With unmistakable 70's styling, these Seiko 5 Sports models are very popular. I bought this one just for the crown and stem as I needed it for another project, but when it arrived it was in too good a condition to part out…
(Click pictures to enlarge)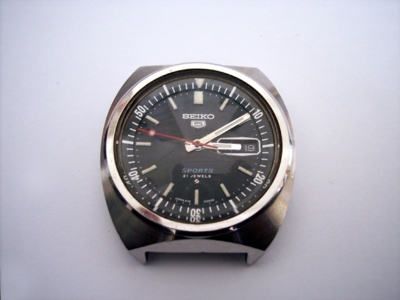 This watch has an internal bezel which is used as a countdown timer. Rotating inner bezels are found on quite a few vintage Seiko models including the World Time models and the ever popular 'Pepsi' Chronographs.
The stems on these watches are different to regular stems as they have a separate winding gear (see below). Inside the watch case, the upper part of the stem tube is cut away to allow the winding gear to mesh with teeth on the under side of the inner bezel. When fully pushed in the inner bezel can then be rotated (in either direction) via the crown…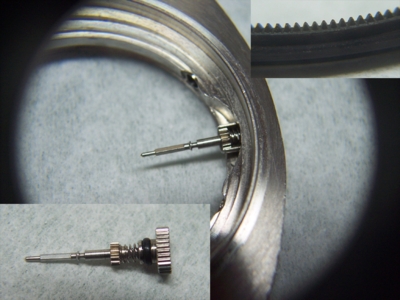 As you can see, the winding gear is spring loaded and slides back on the stem to prevent the fragile plastic teeth on the inner bezel from being damaged should they not line up correctly when the stem is pushed back in after time setting.
Getting back to this particular watch, the seller said that it was running which was half true as it did tick, but the cannon pinion was so loose that the minute hand didn't move. Repunching the pip on the cannon pinion soon sorted out the problem. Other than that, it just needed a regular clean and oil.
The original crystal was pretty badly scratched so fitting a replacement did wonders to highlight the near perfect dial and hands. The watch also had it's original bracelet which was an added bonus…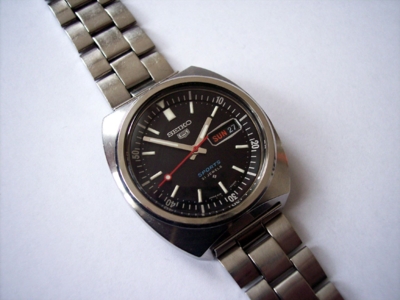 Rich.