Longines Ultra-Chron Ref. 7979-1 (Longines Cal. 431)…
Something strange has happened… I've bought a watch that works! It's something I've been intrigued by for quite a while, a Longines Ultra-Chron Ref. 7979-1 from 1967 fitted with a Longines Cal. 431 "high beat" movement…
(Click pictures to enlarge)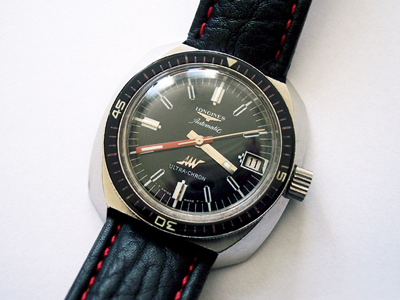 The term "high beat" refers to the rate at which the movement runs. For a limited time in the late 1960's and early 70's a small range of calibres were produced which had a rate of 36,000bph, or 10 beats per second, which claimed to increase accuracy by releasing the mainspring power in smaller, more controllable increments.
High beat calibres were one of the developments to reach the market just before the quartz revolution and are seen by many as the pinnacle of mechanical timekeeping for the masses. Longines were one of only 12 manufacturers to successfully develop a high beat calibre and the only one still in production today is the Zenith Cal. 3019 "El Primero" Chronograph.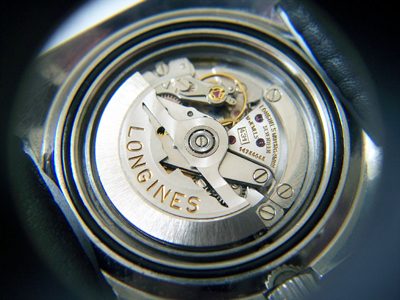 Without seeing a high beat movement in action, it's hard to appreciate just how fast 36,000bph really is, so it's time to break new ground here at The Watch Spot and include some video clips (with sound!). The first clip is the escapement from a Valjoux Cal. 92 which runs at 18,000bph, the industry standard rate for many years…
Now compare that with the Cal. 431 which runs at 36,000bph…
So what else is different? To achieve those speeds several changes were necessary; the number of teeth on the escape wheel was increased from the 15 in traditional calibres to 21, which changes the gearing of the rest of the wheels in the going train. Extra speed at the escapement means that more power is also needed from the mainspring, so high beat calibres have a thicker mainspring than regular calibres which results in a larger mainspring barrel if a power reserve of around 40 hours is still to be achieved.
However, increased accuracy comes at a price as correct lubrication of the movement becomes crucial, especially in the escapement. At such high speeds traditional lubricants can literally be thrown off the escape wheel teeth. To prevent this happening Longines recommends that the escape wheel teeth and pallet stones are not lubricated in the traditional manner, but coated with a film of dry lubricant called "molybdenum bi-sulphide".
Although not all officially certified as chronometers, it is thought that the term Ultra-Chron means "Ultra-Chronometer" and the advertising of the day claimed that the Ultra-Chron was "The world's most accurate watch… guaranteed accurate to within a minute a month". That equates to +/-2 secs per day which is certainly well inside the current C.O.S.C. chronometer specifications of -4 to +6 secs per day…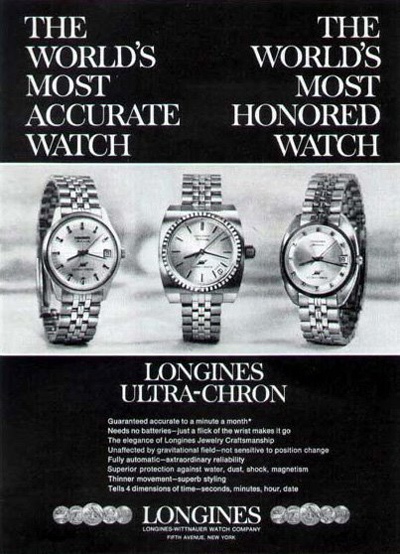 That's quite a claim, but I can well believe it, as after regulating my Ultra-Chron it runs consistently at -1 sec/day which is very impressive.
Rich.