Sekonda Alarm (Poljot Cal. 2612.1)…
I'm always on the lookout for different alarm watches so this Sekonda caught my eye…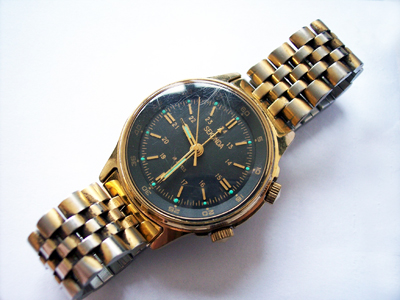 As is common in many alarm watches, the watch has two separate crowns, the upper crown controls the winding of the alarm spring and setting the trigger time and the lower crown works just like a regular manually wound watch, winding the mainspring and setting the time.
The calibre in this watch is a Russian Poljot Cal. 2612.1 and working on this one provided insight into two calibres at once as the 2612.1 is almost identical to a Swiss calibre found in many vintage alarm watches, the A. Schild Cal. AS1475.
With the dial and hands removed you can see the keyless works and the alarm setting mechanism…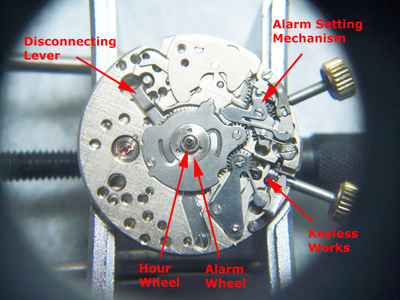 The triggering mechanism is very similar to that of a Bell-Matic, when the alarm time comes around, the notches in the hour wheel and alarm wheel align, the hour wheel raises releasing the disconnecting lever which frees the alarm hammer on the other side of the movement…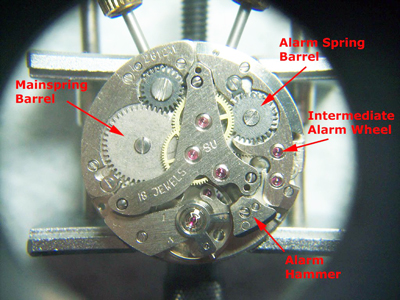 Any power in the alarm mainspring is then transferred through the intermediate alarm wheel to the alarm hammer which moves rapidly back and forth. Rather than having a sounding spring built into the movement like the Bell-Matic, the alarm hammer strikes a pin set into the caseback. To say the alarm on this watch is loud is an understatement and combined with the fact that it rings around 15 seconds make it virtually unmissable.
Needing nothing more than a service and a polish for the crystal, here's the watch looking much better on a black leather strap than that tired old bracelet…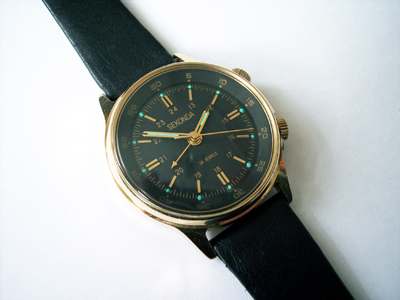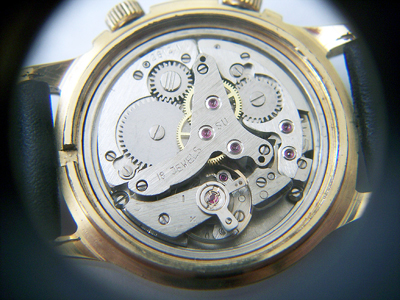 Rich.