The Seiko Calibre 4006A (21 Jewel)…
Early in 2007 I wrote a post comparing the 17 jewel and 27 jewel Bell-Matic calibres, at the end of which I mentioned the rarer 21 jewel version (read that post here). While I'll admit I haven't been searching tirelessly, I finally managed to get hold of one, a 4006-7019 from 1967…
(Click pictures to enlarge)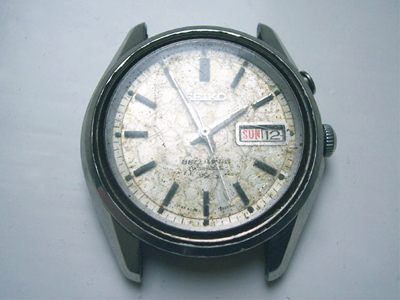 It was in a sorry state that's for sure, but I was more interested in the movement this time.
In keeping with the other Bell-Matics calibres, the number of jewels is clearly printed on the winding rotor…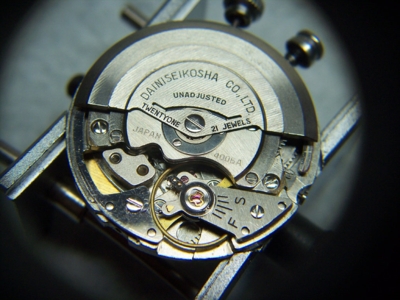 With the winding rotor and mechanism removed, you can see that the 21 jewel version has extra jewels for the third and fourth wheel pivots, just like the 27 jewel version. (Notice that this movement also has one of the extra long sounding springs only seen on really early models).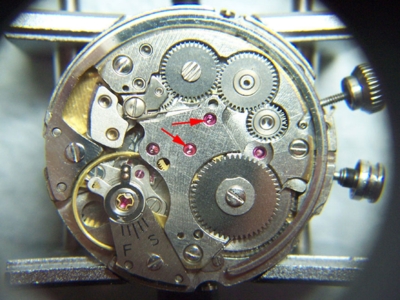 From what I'd read, I was expecting to find extra jewels on both sides of the calibre; two jewels on the barrel and wheel train bridge, and two jewels on the calendar plate under the date ring. However, that isn't the case as the two remaining extra jewels were quickly revealed by removing the ratchet wheels for the mainspring and alarm spring barrels…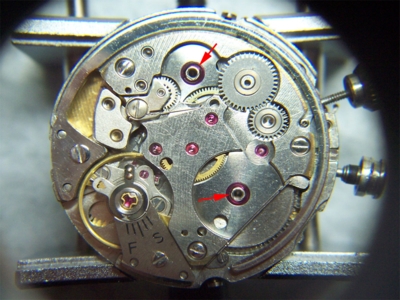 This means that the 21 jewel version shares the same barrel and wheel train bridge as the 27 jewel version with the 4 extra jewels…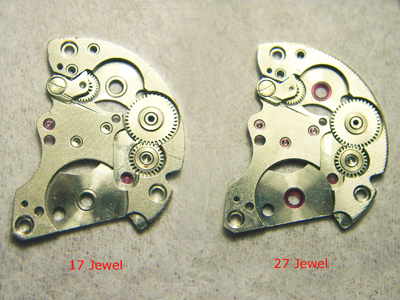 With all the extra jewels uncovered I wasn't expecting any more surprises, but there was one waiting on the dial side, the calendar plate was gilded…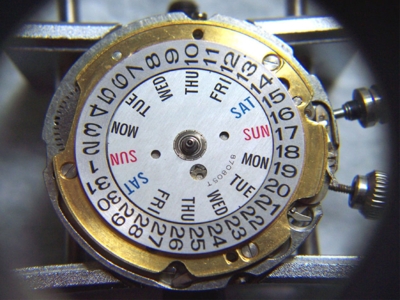 I've never seen this before on any Bell-Matic… can this be specific to the 21 jewel version? With the calendar work removed, you can see that the calendar plate does not have any extra jewels under the date ring so, apart from the gilding, it is exactly the same as the calendar plate on the 17 jewel version…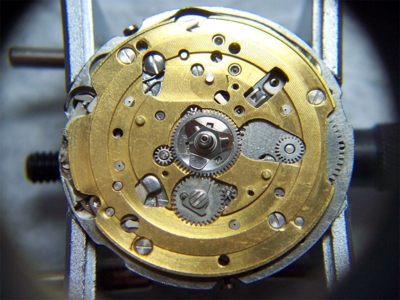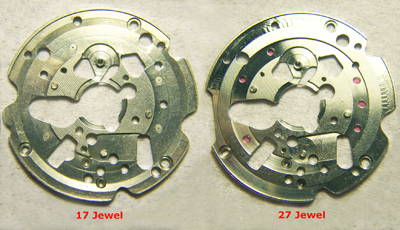 Unfortunately there isn't an 'all finished up' picture this time as the watch had been literally blasted with oil, flooding the case completely. Check out the dial… that's pure oil on there!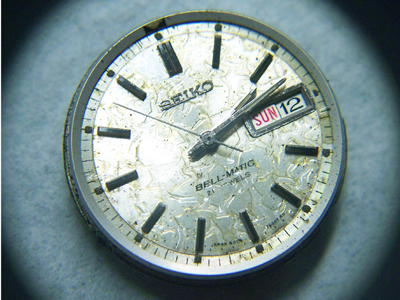 The dial print was actually floating in the oil, one push and it slid right off. Nasty!
Rich.