Enicar Sherpa Dive (Enicar Cal. 1145)…
This Enicar Sherpa Dive model dates back to the 1960's, a time when Enicar were producing some interesting watches.
(Click pictures to enlarge)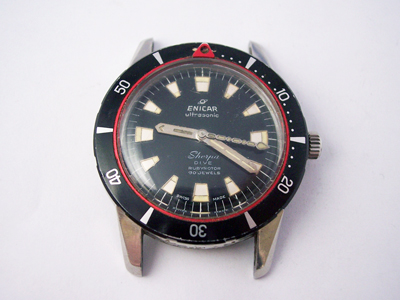 The company was founded in 1913 by Ariste Racine as a small family business, but as the name 'Racine' was already in existence, Ariste flipped his surname around and registered the brand, "Enicar", early in 1914. Assembling watches at home using movements from other suppliers, Racine quickly found a market for his watches in Russia and a lucrative deal with a Japanese importer, which in time allowed him to expand.
Factories were opened as production increased, but it wasn't until the 1950's that significant changes started to take place. A new high tech institute was opened in Oensingen responsible for the ultrasonic cleaning of all watch movements – hence the 'Ultrasonic' written on the dial of many Enicar watches. In 1954 they achieved their first 'certificate of accuracy', giving rise to their first automatic chronometer model in 1956, and from 1959 onwards they started producing their own calibres.
In a move designed to attract attention to the Enicar brand during the 1950's, a number of challenges were undertaken. Water resistance of the 'Sea Pearl' models was demonstrated by attaching them to the hulls of a ocean liners for weeks at a time, and a team of Swiss mountaineers were wearing Enicar watches on a successful Everest attempt in 1956 giving rise to a range of 'Sherpa' models throughout the 1960's – Sherpa Graph, Sherpa Jet and Sherpa Star to name but a few.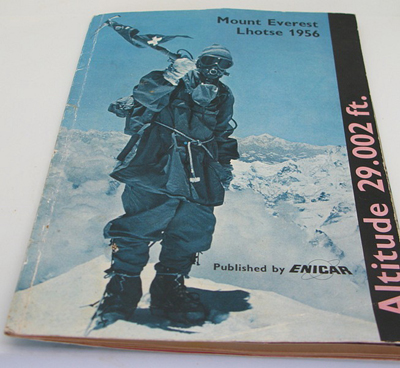 Despite releasing their own quartz watches in 1970, sales steadily declined during the quartz revolution and the company was finally declared bankrupt in February 1988, the remaining stock of movements being sold to Gerd-Rüdiger Lang of Chronoswiss. The Enicar name was bought later in 1988 by the CEO of Wah Ming-Hong Ltd, based in Hong Kong.
Ok, back to the watch. Opening it up revealed an in-house calibre in good condition, a cal. 1145 which was running, but wouldn't build up a power reserve when worn. Further investigation revealed that parts of the automatic winding mechanism were heavily worn which was causing the problem.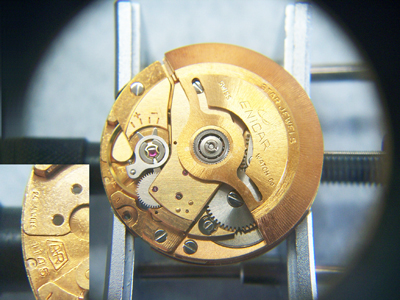 Though I didn't notice it immediately there is a discrepancy between the text on the dial and the movement inside – the dials says "Rubyrotor 30 Jewels" and the movement is clearly stamped with "24 Jewels". In the technical specifications of the cal. 1145 there is no mention of a 30 jewel version, only versions with 17 or 24 jewels,  so had the movement been switched at some time?
After discussion with the owner it was decided that the best course of action would be to try and find a running donor watch with the right movement to put things back in order, and after just a few days this donor was sourced from everyone's favourite auction site…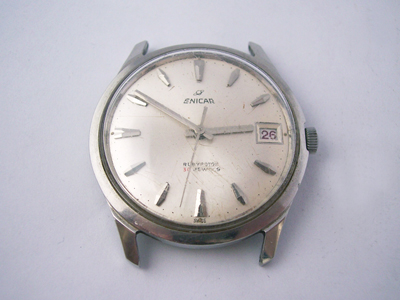 … but the auction listing didn't show a picture of the movement, and when the watch was opened, guess what – yep, same movement!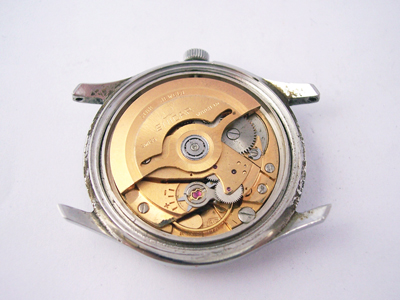 Investigation online revealed nothing about the mysterious 'Rubyrotor', but did unearth several other 30 jewel models with 24 or 25 jewel calibres. Marketing trickery by Enicar here perhaps? Possibly.
However, the donor watch did provide all the parts needed to repair the automatic winding mechanism so after a service for the original movement, a thorough case cleaning and a polish of the crystal, the watch was back up and running again.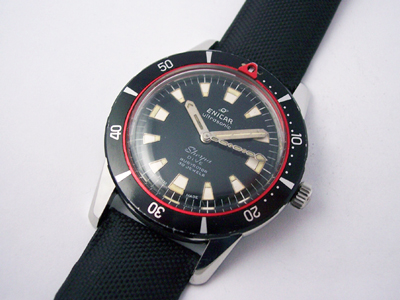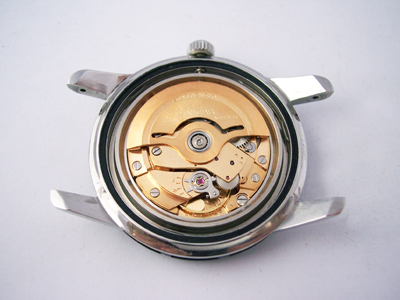 Rich.
** Many thanks to Wessel de Graaf for letting me feature his watch on the blog. **