Seiko 6139-6010…
I continued to ride my 'blurry auction picture' luck by winning this non-running 6139 chronograph, described by the seller as 'needing some TLC'…
(Click pictures to enlarge)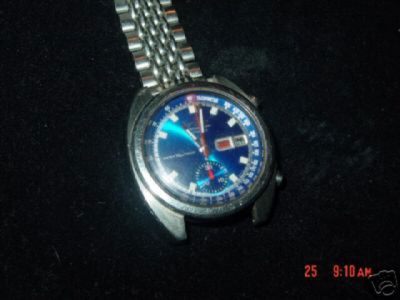 … and I was very pleased when this arrived…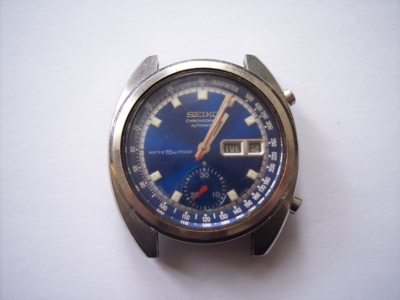 This particular watch was made in May 1969 and is one of the earliest examples of this model, recognisable by the "Water 70 Proof" text on the dial. (In later models this text was removed and replaced by a regular 9 o'clock marker).
On the minus side, the watch didn't run at all, both pushers were stuck, the quicksets didn't work and the crystal was badly scratched.
On the plus side though, the dial, tachymeter ring and hands were all in perfect condition and the case had no major damage, but the real bonus was a very nice movement hiding inside the grimy case…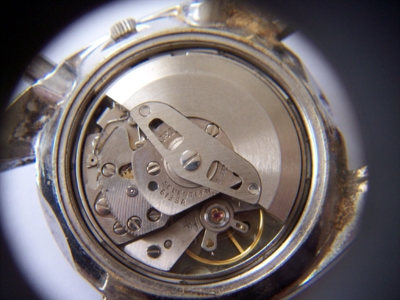 As you can imagine there was also plenty of grime in the crown and pusher recesses, and the gaskets were well past their sell by date too, all of which was causing the pushers and stem to stick.
There was nothing wrong with the movement besides a lack of recent servicing, so an overhaul for the movement, a case cleaning with new gaskets, a new crystal and we were back in business…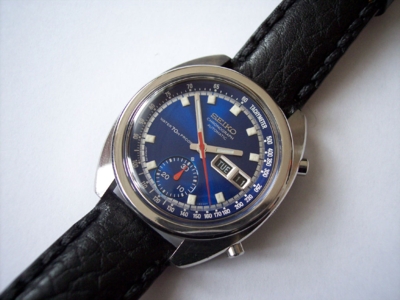 The eagle-eyed among you may have noticed that I also changed the sweep second hand. I find the original sweep second hand on the early 6139's a little thin for my taste, so I swapped it for the thicker version from a later model. It probably won't please the Seiko purists, but I think it looks much better.
Rich.