Seiko 6117-6410 (World Time)…
This World Time is one of the third generation models, fitted with the same calibre as the Navigator Timer I restored a few months ago, the 6117B…
(Click pictures to enlarge)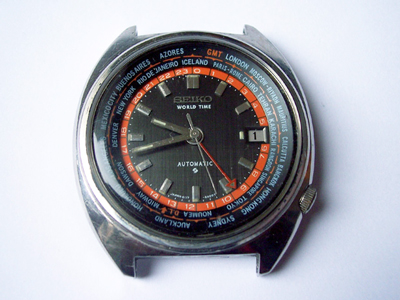 Although not running, this one was in decent cosmetic condition, but had been fitted with the wrong crown and stem, meaning the city bezel wouldn't rotate. Further investigation revealed that the hairspring was damaged and it was also missing it's casing spring.
The stem and crown for this watch is the same as the very popular 6139-600x series of chronographs and some of the 61xx 'Sports' models (all of which have a rotating inner bezel), so I was hopeful that I might find just the parts I needed, but alas, no luck. I ended up buying another project watch, which isn't a bad thing, as it's always good to have a few spares on hand for future projects.
The donor watch provided all parts I needed with the exception of the hairspring which was in even worse condition than the first one, so after the rest of the service was done, it was out with the fine tweezers (and an extra helping of patience!) to reshape the original.
To freshen up the cosmetics I cleaned up the lume on the dial and relumed the hands. I also refinished the case a little and polished up the original crystal, which only had a few minor scratches…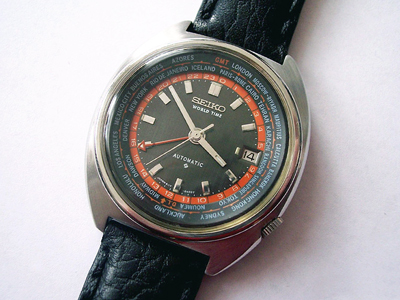 One last thing to point out on this watch is that Seiko made a mistake when printing the city bezel text. On the early examples, London was printed in the same timezone as Paris/Rome…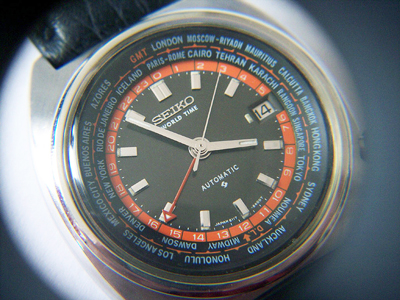 …which never happens, even taking BST (British Summer Time) changes into consideration. Seiko must have realised, or been informed of their mistake, as on the city bezels printed for the later models, the error was corrected…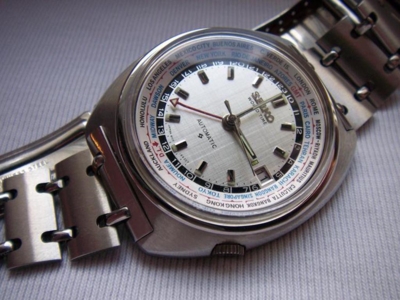 Picture by Ralf / watchbear-71
Rich.