Aquastar Atoll (A. Schild Cal. 1903)…
Another watch from one of my favourite vintage manufacturers, an Aquastar Atoll from the 1970's.
(Click pictures to enlarge)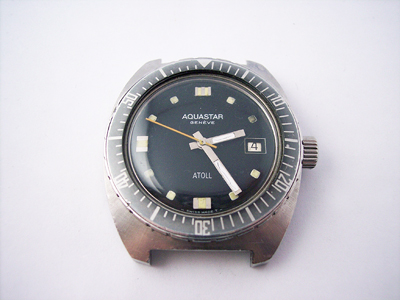 Probably best known for their Regate sailing timers and "bomb-proof" Benthos divers watches, Aquastar also had a range of regular divers watches including the Atoll (which was also available in a quartz version), the Seatime with an rotating internal bezel, and the 63. Here is an advertisement from the 1970's which features some of their models.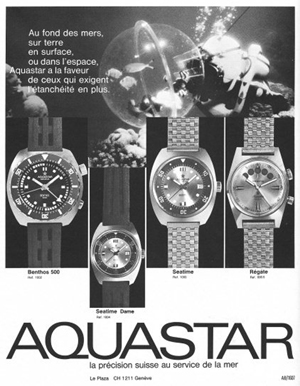 Still in the possession of the original owner who bought it in the 1970's and used it while Scuba diving throughout the 70's and 80's, this watch found it's way into a drawer after developing a problem, where it lay 'resting' for some years. After stumbling across my blog, Michael thought it was time to dig out his watch and get it restored…. yet another vintage gem rescued from the back of a drawer! 🙂
On opening the watch it wasn't difficult to see the cause of the problem, the winding rotor was completely free and rattling around inside the case. Further investigation showed that the axle on which the winding rotor mounts had broken off, probably as the result of a heavy knock.
Finding a replacement wasn't too difficult this time as the same winding mechanism is used on quite a few A. Schild calibres.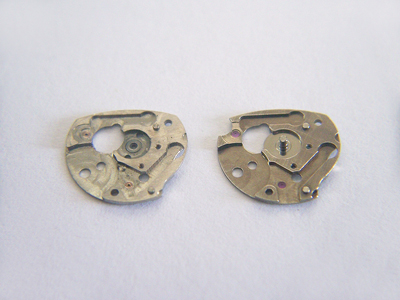 With the obvious problem fixed and the rest of the movement serviced, it was on to the cosmetic issues. Looking at the first picture you'll notice that the paint on sweep second hand was damaged/faded and the original lume in the hands had been replaced with white paint at some point which had subsequently cracked.
It wasn't really a surprise to see that the lume in the hands wasn't original, as this is the case in the majority of Aquastar watches that I've seen. For some reason Aquastar chose to use an incredibly thin layer of lume in their hands and on their hour markers, which after 30+ years has often cracked, or fallen out completely.
With the movement serviced and the cosmetic issues addressed, a new crystal and strap finished the job.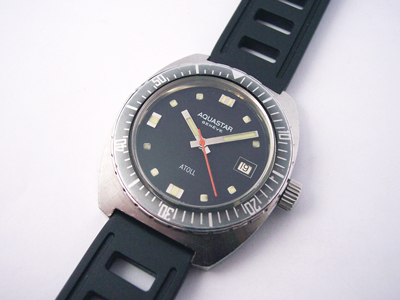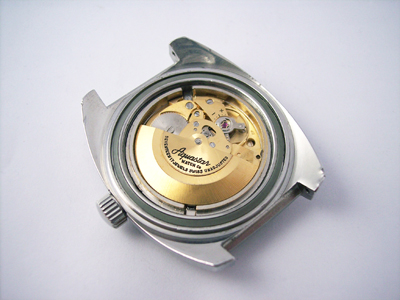 The strap is a copy of the Isofrane strap that would have been originally fitted to the watch. It's great to see that these are available again as they were fitted to many dive watches during the 1960's and 70's. If you need one for your watch, you can buy them from http://www.isofrane.com/
Rich.
** Many thanks to Michael Cattell for letting me feature his watch on the blog. **