Seiko 6117-6410 (Navigator Timer)…
Arriving in good cosmetic condition, and with all it's original lume intact, this Navigator Timer had potential right from the start. Although, it was missing it's bezel…
(Click pictures to enlarge)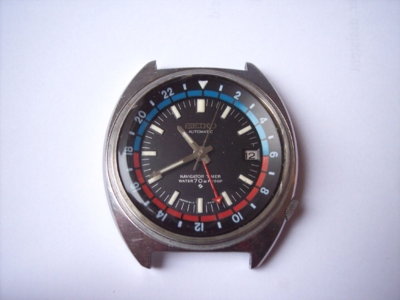 The calibre in this watch is the 6117B which was introduced in 1968, and is basically a 6105 calibre with an added GMT function. As well as being used in all of Seiko's Navigator Timer models, it was also used in the second generation World Time watches, replacing the 6217A movement found in the first generation models.
On removing the dial I was expecting to see a fixed pinion attached to the minute wheel, just like the 6217A, but no, on this calibre the extra pinion is placed on top of the intermediate date wheel. This means that the 24hr wheel is now in sync with the date mechanism, which probably makes more sense, as they both need to rotate once per day.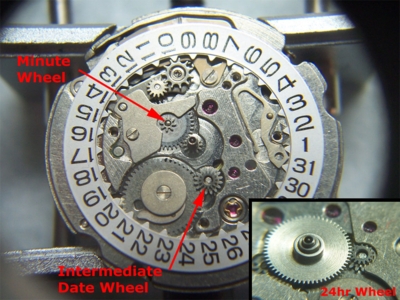 After tracking down a replacement bezel, I was ready to get started, and with no major problems to fix, a movement service, a polish for the crystal and some refinishing on the case quickly got this one back up to spec…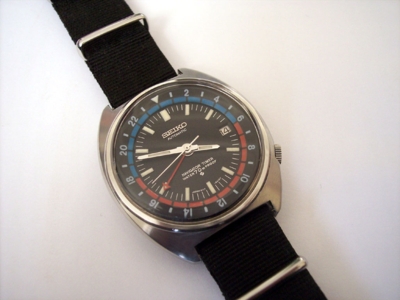 If you are unaware how this watch works, the internal bezel can be used to track the time in a second time zone. The red (GMT) hand rotates once around the dial in 24 hours and the internal bezel, which is marked in hourly increments, can be rotated using the crown.
Let's say that I'm currently in London and I want to keep track of the time in Los Angeles, which is eight hours behind. To do this I simply rotate the inner bezel 8 markers anti-clockwise so that '16' marker on the inner bezel is opposite the 12 hour marker on the dial. The GMT hand now always points to the current time in Los Angeles. So, you can see in the following example that as it's almost 4pm in London, it's nearing 8am in Los Angeles….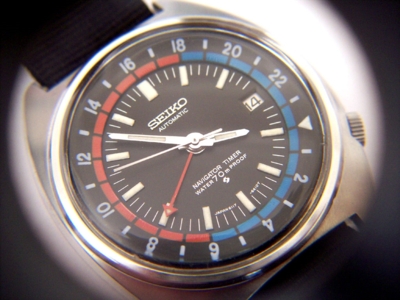 It's also easy to tell at a glance whether it is day or night in the second time zone, as the red portion of the bezel signifies daylight hours, and the blue portion night time hours.
Rich.