Aquastar Benthos 500 (A. Schild Cal. 2162)…
I don't get much time for my own restoration projects these days, but an opportunity came along to buy a watch that I couldn't miss, this 1970's Aquastar Benthos 500 with rare decompression bezel.
(Click pictures to enlarge)
I agreed to buy the watch in August last year, but rather than posting it, the seller who lives in Texas, arranged for the watch to be carried into the UK by a friend later in the year.
A few months passed quickly by and the watch arrived in the middle of December. Overall it was in reasonable condition, but needed a movement service, some minor lume work and ideally a new crystal.
Removing the caseback showed a nice clean movement, but the gasket had broken down into black slime. This seems to happen after many years of being left untouched. This stuff is difficult to remove and unfortunately the rest of the gaskets were all exactly the same (see crystal gasket inset).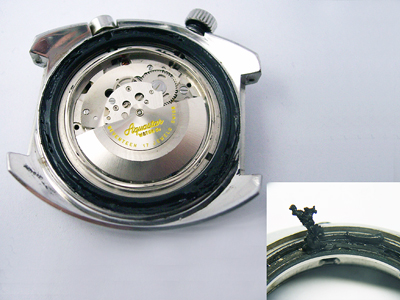 I serviced the movement over Christmas but as it had problems with the internal timer (as many of these watches do), I didn't have time to finish it off. I wrote in the past about another Benthos 500 in which I explained how the timer works. If you would like to read that post you can do so here.
Finding a new crystal was also problematic as the crystal on this model is 4mm thick mineral glass, and has a shaped side profile which means that it can't be cut easily. Consequently, crystals are hard to find and can be expensive when you do.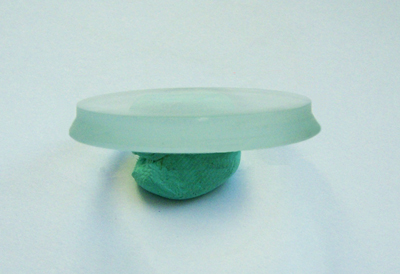 However, a fellow watch enthusiast, James Hyman, came to my rescue and made a great job of polishing the original crystal for me. With that problem solved the end of the project was now in sight.
After replacing the lume in the timer hand and investing some more time in the timer issues and rebuilding the watch, the job was complete. Here is the end result.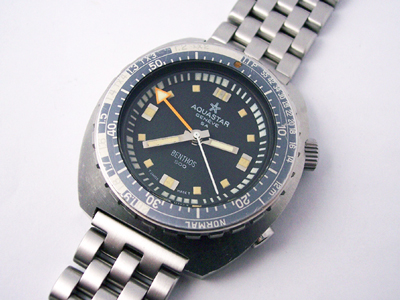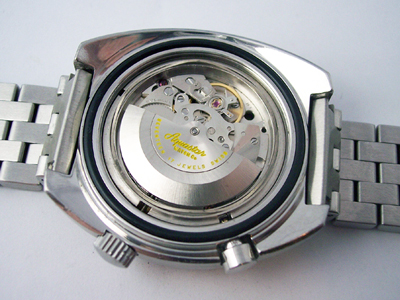 Also included in the sale was the original box and all the paperwork, including hang-tag, full instructions for the bezel, and a funky chart with a sliding scale for something to do with repetitive diving – to be honest I haven't worked it all out yet! The only thing missing is the original isofrane strap (which wore out).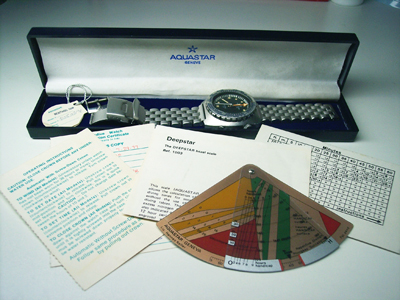 I've only seen one other Benthos 500 with a decompression bezel, so needless to say, I'm very happy with it.
Rich.
** Many thanks to Oscar for selling me the watch, and to James for his sterling work on the crystal. **