Trafalgar Alarm (Ronda Cal. 1223)…
I really like mechanical alarm watches, so I thought I'd tackle this 70's Trafalgar Alarm. It arrived in a bit of a state, the hands were scattered all over the dial, it didn't wind and the alarm didn't set or work. It's safe to say that I took a bit of a punt on this one…
(Click pictures to enlarge)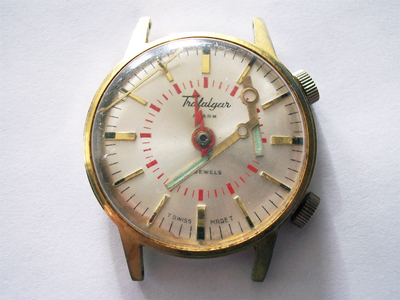 The calibre in this one is a Swiss made Ronda 1223, this one being the 'upmarket' version with 17 jewels (this calibre was also manufactured with just a single jewel). This calibre is manually wound and beats at 18,000bph.

As you can see in the picture above, the watch has two separate crowns. The one at 2 o'clock operates like a normal crown, winding the mainspring and setting the time. The crown at 4 o'clock operates the alarm, turning it forwards winds the alarm mainspring, and turning it backwards sets the alarm time. Unlike the Bell-Matic there is no alarm on/off button, if the alarm mainspring is wound, it goes off when the alarm time comes around.
Here's a picture of the alarm mechanism, all of which sits under the dial…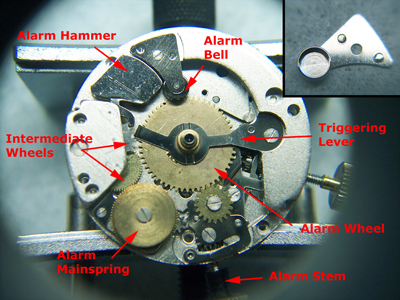 Power for the alarm is stored in the alarm mainspring. When released, the power is fed through two intermediate wheels to an alarm hammer which moves back and forth contacting the bell. Rather than having a sounding spring or striking against a part of the case, this calibre uses an internal bell (inset).
To prevent the alarm from ringing until the right time, a triggering lever arrests the second intermediate wheel. When the chosen alarm time comes around, the alarm wheel and hour wheel beneath it line up, the triggering lever drops and the power in the alarm mainspring is released.
The movement in this one showed signs of a previous rescue attempt, as most of the parts were held in place by half tightened screws. Someone had obviously been in here before, assessed the damage, and put it loosely back together for attention 'later'.
Fully disassembled, I was pleased to find that all the parts were there, just one part of the keyless works was damaged, preventing the mainspring from being wound. I found a similar part from another movement and shaped it to fit, fixing the problem.
Here's the watch back in action. You've gotta love that lightning shaped alarm hand!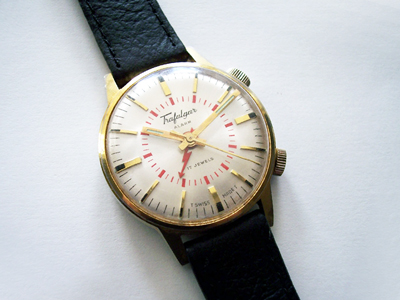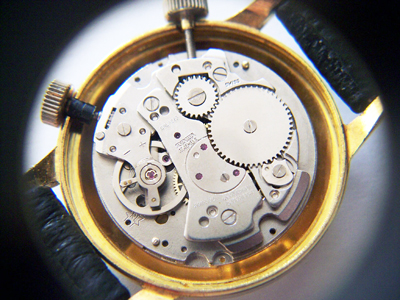 Rich.