Seiko 6206-8990…
The ageless design of Seiko's older dress watches is always appealing, and the full day display at six on the dial is a nice feature. This one did run on arrival… kind of. The second hand moved as it should, but the other hands stayed stationary.
(Click pictures to enlarge)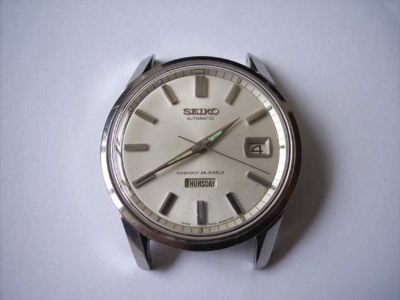 The dial on these watches are usually marked 'Seikomatic' so I initially suspected that it was a redial. However, on closer inspection it seems not, as the dial print is perfect in terms of font and positioning. I've since spotted another watch with the same dial which reassures me that it's legitimate.
It is possible that the hands and chapter ring are from a later model though, as very few of these watches had lumed hands when this watch was made (1964). However, with seemingly endless variations of watches being made for both domestic and overseas markets it's impossible to know for sure, but swapped or not, they're a perfect match.
Addendum Jan '08: Since writing this post I've seen two of these watches with exactly the same hands and chapter ring, so I'm now sure they are original to this model.
Investigation of the problem with the stationary hands revealed a problem with the cannon pinion. If tightened incorrectly it can ride up the centre wheel pipe over time, eventually forcing the cannon pinion to lose contact with the minute wheel. Pressing out the misplaced 'pip' and repunching it in the right place put it right.
As the case was still in good shape, it just needed a relume on the hands to finish the job…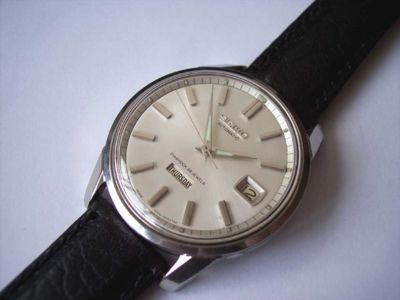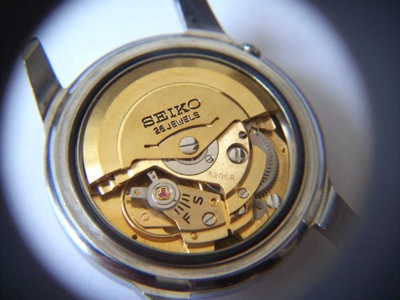 Rich.