Seiko 4205-014B…
A certain someone requested an automatic sports watch some time ago, and I'm hoping this ladies diver will fit the bill…
(Click pictures to enlarge)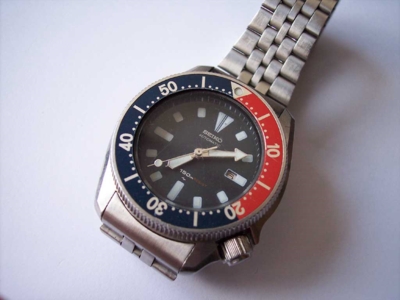 This watch is fitted with one of Seiko's smallest automatic calibres, the 4205, which despite its diminutive size, offers more technical refinements than many of it's larger stable mates, having a full bridge for the balance, and the ability to hand wind the mainspring.
With the top plate removed, you can see that there isn't much room to spare inside, the wheels for the going train are tightly packed, and a separate bridge has been squeezed in to house the wheels for the hand winding mechanism.
This calibre also has 'indirect centre seconds'. In most calibres, the second hand is attached to the axle of the fourth wheel which extends through the main plate and out onto the dial. In this calibre, with the 4th wheel positioned out on the edge of the main plate, an extra seconds pinion is needed to maintain a centre sweep layout.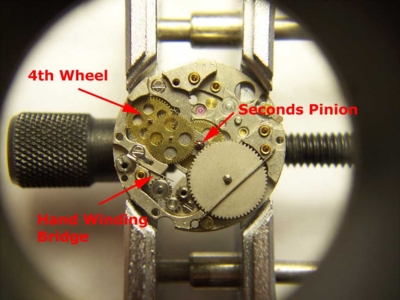 Before re-casing I took an "exploded view" shot of all the casing parts, which is typical for many of Seiko's divers.

To finish off I replaced the crystal and gaskets, popped in a traditional bezel insert, and fitted a matching strap. It looks good… I hope it gets the seal of approval!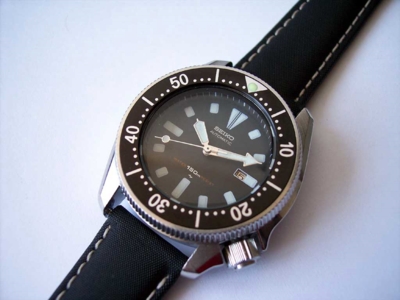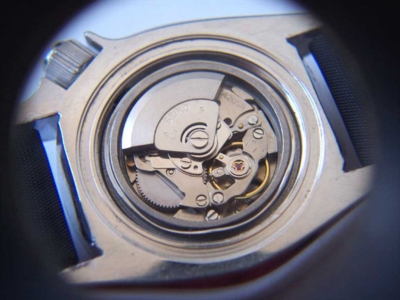 Rich.