Mondia Top Second (A. Schild Cal. 2063)…
I've written about a number of interesting watches from the 1960's and 70's, and this Mondia Top Second is another example.
(Click pictures to enlarge)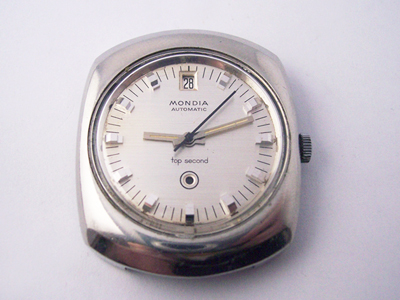 Mondia created a range of these Top Second watches, though they are rarely seen nowadays. What differentiates them is that they have a flashing dot on the dial which alternates between black and orange to show that the watch is ticking.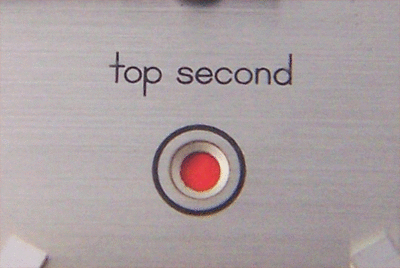 Mondia were established in 1935 in Le Locle, Switzerland by the watchmaker Paul Wermot. The brand quickly became popular throughout Europe, especially Italy as the style of the watches appealed more to the Italian market.  The brand became part of Zenith in 1970, and from then on focused mainly on the mid-range market sector. The brand is still trading today and you can see their current models here.
The calibre inside the Top Second is a modified automatic A. Schild calibre, the 2063. With the caseback removed, the movement looks the same as a regular cal. 2063, but with the dial and hands removed, the 'magic' behind the flashing dot is instantly revealed.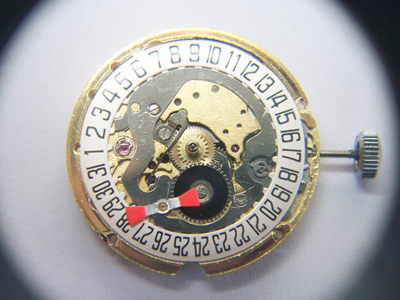 Click here to see the rotor in action
The principle is very simple. The flashing effect is created by a bow-tie shaped rotor which makes a full revolution once every two seconds. When an arm of the rotor arm passes under the hole in the dial the dot changes to orange, and for the rest of the time the dot is black, the background colour provided by the painted section of the date driving wheel.
The power for the rotor is provided by an additional wheel in the train. With the train wheel bridge removed you can see the extra wheel coupled to the escape wheel. The inset picture shows the escape wheel which in addition to the usual club toothed wheel has a second gear mounted on the shaft to drive the rotor.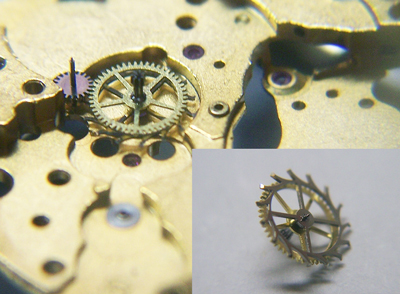 The shaft of the extra wheel passes through the main plate and extends above the calendar work allowing the rotor to be mounted between the date wheel and the underside of the dial. The horizontal plane of the rotor has to be level to avoid fouling either the calendar work or the underside of the dial. If the rotor is not level, the additional friction would decrease the balance amplitude and could stop the watch altogether.
Though the watch was running on arrival, it did have a problem with the date changeover caused by a damaged setting spring. With the setting spring replaced and the rest of the movement serviced, the watch was back up and running again.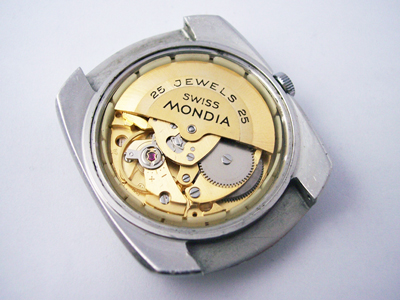 Rich.
** Many thanks to Kevin van der Zouwen of the watch collectors trade and information site Some Time Ago for letting me feature his watch on the blog. **